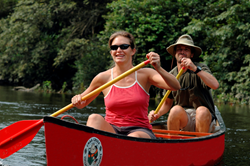 "It's a great way to get away from the TV and spend healthy quality time in a tranquil and secure setting where entire families can do as much or as little as they please together."
San Ignacio, Belize (PRWEB) April 25, 2014
A new emphasis on family togetherness is driving Belize summer vacation specials at The Lodge at Chaa Creek, with Chaa Creek's marketing administrator recently announcing some exciting new additions to the Belizean eco resort's all-inclusive family vacation packages.
Roberto Harrison said an increase in family visits to Chaa Creek indicates a desire on the part of parents to spend more time together sharing family adventures in a pristine, secure setting.
"Chaa Creek has been a family owned and operated eco-resort that has specialised in family adventures for over 30 years now, and with an increasing number of families taking advantage of our all-inclusive Belize vacation packages, which combine affordability with flexibility, casual luxury and a great range of activities, we're placing a special emphasis on families this summer," he said.
The Lodge at Chaa Creek is located in a 365 acre private rainforest nature reserve sprawled along the banks of the Macal River with miles of maintained trails connecting the Lodge to over 70 recorded ancient Maya sites and a wide range of amenities and activities.
Mr. Harrison said that Chaa Creek's infrastructure, range of activities and nationwide network of colleagues has earned it the nickname of Belize's "Destination within a Destination" among travel industry professionals.
"People have realised that you can have a complete Belizean vacation right at Chaa Creek, and our affordable all-inclusive Belize vacations make for a carefree holiday, offering something for every member of a family, regardless of age or interest.
"For example, we sponsor an annual school kids summer camp, so have professional, licensed guides and activities already in place, such as our popular Eco Kids Rainforest Adventure, which ensures that the young ones are never bored. And with activities such as canoeing, horseback or mountain bike riding along our network of secure jungle trails, guided or self-guided nature walks, and amenities such as the Butterfly Farm or Hilltop Spa, there is definitely something for everyone," he said.
Mr. Harrison said that Chaa Creek uses feedback from guests to continually develop new packages and add-ons to existing packages.
"For the summer of 2014 we've expanded our range of activities so that along with visits to the on-site Belize Natural History Centre, the traditional Maya Organic Farm, which uses techniques unchanged over the centuries and supplies the fine dining restaurant with fresh ingredients, the Maya Medicinal Plant Trail and river and jungle excursions, our guests are guaranteed a vacation that is informative as well as entertaining and relaxing.
"We offer professional child minding and have a large staff encompassing all age levels, so it's a great way for the entire family, from toddlers to grandparents, to enjoy time together as well as take part in individual activities that interest them.
"For example, teens may wish to learn horseback riding while the adults enjoy massage treatments, nature walks or just relax around the infinity pool or Jungle Lounge. And this summer we now offer excursions around the beautiful, remote Vaca Lake on a motorised pontoon, or river excursions on the 'Miss Macal', a traditional johnboat that harks back to Belize's 'Pirates of the Caribbean' past," he said.
Mr. Harrison added that Chaa Creek also offers "Rainforest to Reef' all-inclusive packages that, with a new nearby airstrip, allow families to easily combine a Caribbean island holiday with their rainforest vacation.
"As a family business, the owners of Chaa Creek realise how valuable time is. Over the years we've developed vacation packages that, with everything from accommodation, meals, transfers and literally every aspect of a vacation covered for one affordable, set price, put a tropical adventure in reach of more families.
"It's a great way to get away from the TV and spend healthy quality time in a tranquil and secure setting where entire families can do as much or as little as they please together," he added.
The Lodge at Chaa Creek is an award winning eco resort set within a 365 acre private nature reserve in Belize.
ENDS