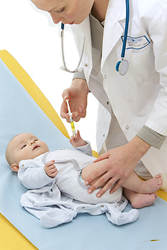 Meningitis B is an aggressive bacterial disease most common in children under five with babies under one being particularly susceptible.
(PRWEB UK) 23 April 2014
The British government has announced that the UK could become the first country in the world to provide universal vaccine protection against the killer disease – Meningitis B.
Around 1,870 people contract Meningitis B each year and each year, one in 10 dies. Babies under the age of one are most at risk of the disease and the cases peak at around five or six months of age. Of those who survive a Meningitis B infection, one in four is left with life altering after-effects such as brain damage or limb loss. http://bbc.in/1hkjQLx
The Department of Health stated that the vaccine Bexsero should be added to every child's vaccine schedule, after The Joint Committee on Vaccination and Immunisation (JCVI) in 2013 overturned guidance, which claimed that it would not be cost-effective.
Superintendent Pharmacist, Omar El-Gohary, at online pharmacy Chemist Direct, said: "Meningitis B is an aggressive bacterial disease most common in children under five with babies under one being particularly susceptible. It infects the tissue surrounding the brain and the spinal cord resulting in inflammation which leads to increased pressure on the brain and a decreased blood pressure."
The government will soon enter into negotiations with Swiss pharmaceutical giant Novartis, which developed and manufactures the vaccine. They will discuss the cost of the roll-out to the NHS, with a view to immunising all infants at two months old. http://ind.pn/1iCEomr
Tests indicate that the vaccine is effective against 73% of the different strains of the disease. It was licensed for use in Europe in January 2013. Novartis have said that they are "Ready to supply" the vaccine just as soon as the Department of Health have all the necessary agreements ready.
Christopher Head, Chief Executive of Meningitis Research Foundation, has said that the outcome of this move will save lives and spare countless families the trauma of seeing a loved one seriously disabled by the devastating effects of Meningitis B.
El-Gohary added: "The vaccine does have some common side effects which can include redness/swelling at the injection site, fever, loss of appetite and vomiting but it will without a doubt significantly reduce the cases of Meningitis B amongst children."
The vaccine costs £75 per dose, but the average cost to fully protect children aged six months to two years is understood to be closer to £200. The vaccine has been available privately for a number of months and the vast majority of sales have been in some of the wealthiest parts of the country.
Novartis have committed now to working with health officials in the UK to ensure that the government's recommendations are implemented as early as this coming summer.