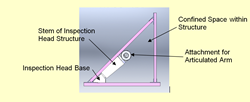 (PRWEB) April 23, 2014
LSP Technologies, Inc. announces it has been awarded an SBIR contract for its Laser Bond Inspection (LBI) technology to design and fabricate an inspection head for use inside confined spaces of primary aircraft structures to verify bond strength. LSP Technologies' current LBI system inspects open structures with relatively flat surfaces. LSP Technologies worked with multiple major aerospace OEMs in a Phase I program to determine inspection requirements for composite structures in confined areas on Pi joints and other primary structural elements.
Laser Bond Inspection is a quality assurance, nondestructive adhesive bond strength test; it detects the presence of weak regions in adhesive bonds that can lead to disastrous failures of the structure under flight loads; as well as detecting kissing bonds. The LBI EMAT sensor is a critical component in the inspection head system. The EMAT senses and records the inspection surface motion out-of-plane velocity. The velocity is proportional to the stress intensity associated with reflections of stress waves generated in the material by the laser pulse during LBI. These stress wave signatures are used to assess the integrity of the bond.
Laser Bond Inspection utilizes pulsed laser technology, which grew out of LSP Technologies' laser peening technology (laser systems and processes). The LBI system delivers a wide range of laser energies (5J to 45J) and pulse widths (50ns to 300ns) to an inspection head via an articulated arm to meet a broad range of inspection requirements, which will include Pi joints in confined areas as a result of this DARPA contract.
LBI can be used to verify production assemblies or depot repairs to improve manufacturing efficiencies, and to minimize repair rework time and costs. LBI systems are available for use on-site. LSP Technologies delivered its first Laser Bond Inspection system to Boeing in December, 2012.
"Bonded joint manufacturing benefits from the LBI method because there is no other industrial nondestructive measurement technique for locally determining adhesive bond strength," said Dr. Jeff Dulaney, President and CEO of LSP Technologies, Inc. "We are honored to be working with DARPA on this project."
"The first several years of the company's business were focused on establishing the laser peening industry; we designed and built our own laser peening systems as well as those for GE Aviation, and helped other labs and companies understand the laser peening process for metal fatigue property improvement," said Dr. Dulaney. "In 2003 we started laser peening integrally bladed rotors in Pratt & Whitney's F119 engine on the F22 Raptor for the U.S. Air force. We've successfully expanded our clientele to include power generation, tubing, automotive, and transportation manufacturers."
LSP Technologies is an innovative company specializing in the application of high power lasers to improve the endurance, performance, and safety of manufactured components across a broad array of industries, as well as providing laser contract research and development for industry and government. LSP Technologies was founded in 1995 and is the premier provider of laser peening equipment and services in the world. For more information, please visit http://www.LSPTechnologies.com.