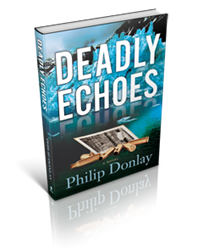 "Not only is the finning of sharks barbaric, but their indiscriminate slaughter at an unsustainable rate is pushing many species to the brink of extinction."—www.stopsharkfinning.net/
Longboat Key, Florida (PRWEB) April 25, 2014
Oceanview Publishing released DEADLY ECHOES by Philip Donlay on April 1. This is the fourth entry in Donlay's Donovan Nash thriller series. The author incorporates his passion for the ecology in DEADLY ECHOES, a fast-paced novel of suspense and ecological terrorism.
The Story...
Donovan Nash is a man under siege, and this time it's personal. Eco-Watch, the premier scientific research organization he founded, is being blamed for a series of violent eco-atrocities that ignite protests around the world.
Behind the attacks is Garrick Pearce, a man from Donovan's past, who is bent on a ruthless vendetta. Garrick has promised that after he annihilates Eco-Watch, he'll murder everyone close to Nash. Recoiling from the damage, Donovan enlists the help of Erica, a woman who claims she has information Donovan needs, but her knowledge makes her a marked woman.
Running from trained killers, the FBI and even his own organization, Donovan races from southern California to British Columbia, then finally to Alaska where he joins Eco-Watch personnel and desperately tries to stop what promises to be the worst eco-atrocity in history. With his world in tatters and everything he built seemingly destroyed, Donovan is forced to take one last desperate gamble to stop Garrick and silence the man forever—a roll of the dice that may very well cost Nash his life.
On August 19, Oceanview will release SHARK FIN SOUP by Susan Klaus. In this latest novel in the Christian Roberts series, Klaus exposes the horrors of shark finning, and the repercussions to the ecological balance caused by harvesting shark fins to the point of extinction.
"Not only is the finning of sharks barbaric, but their indiscriminate slaughter at an unsustainable rate is pushing many species to the brink of extinction. Since the 1970's the populations of several species have been decimated by over 95%."
—Stop Shark Finning
The Story...
Christian Roberts, a handsome, young Floridian, has retired from horse racing and sets off with his wife, Allie, to cruise the Caribbean on his new sloop. Tragedy strikes, ending the dream vacation, and Christian becomes the prime suspect in a murder.
Shattered and guilt ridden, Christian believes his actions caused the death, and suicide lurks in his thoughts, a way to end his pain, but he can't act on the impulse, at least not yet. He must honor a dying request, "Save the sharks. Do it for me."
Every year, one-hundred million sharks are killed for their fins that are used in a Chinese soup, a symbol of wealth in Asia. Within the next ten years, one-third of all shark species will be extinct, and without these ocean predators, the reefs will decline. Christian embraces the impossible task of stopping the shark slaughter. Under the alias of Captain Nemo, he becomes an eco-terrorist while a suspicious FBI agent dogs his every move.
Will Christian be caught and imprisoned? Will the fin traders kill him? Could despair win out, causing him to take his own life? Or will Christian succeed and save the sharks?
DEADLY ECHOES is available in Hardcover (ISBN: 978-1-60809-109-6, Thriller, 336 Pages, $26.95) and all eBook/Digital Formats (ISBN: 978-1-60809-110-2, $14.95)
SHARK FIN SOUP is available in Hardcover (ISBN: 978-1-60809-123-2, Thriller, 344 Pages, $26.95) and all eBook/Digital Formats (ISBN: 978-1-60809-124-9, $14.95)
Both titles are distributed by Midpoint Trade, and are available though Ingram, Baker & Taylor, OverDrive, and all other fine wholesalers.
Both titles are available through booksellers and public libraries, nationwide.