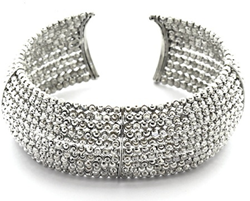 Officina Bernardi combines elegance and creativity with innovation and research to design its exceptional line of jewelry.
Tampa Bay, FL (PRWEB) April 30, 2014
BillyTheTree, the ultimate online provider of unique jewelry and specialty items, has recently added a new collection of uniquely crafted pieces made by Italian jewelry designer, Officina Bernardi. The online jewelry retailer is thrilled to represent the highly-acclaimed brand on its website, with an assortment of bracelets, earrings, necklaces, pendants, and rings manufactured by the jewelry designer in Borso Del Grappa, Italy. Officina Bernardi's signature collection uses 925 sterling silver, 18kt gold, and platinum, characterized by the jeweler's exclusive "moon cut" shaping technique that creates a lustrous surface with a glittering effect similar to that of a diamond.
Officina Bernardi was established in 2007 by Carlo and Francesco Bernardi with the purpose of creating a unique Italian style using cutting-edge technology. The company aims to offer its customers a highly technical and stylistic quality with its jewelry, creating an accessible luxury with distinguished design aspects. Officina Bernardi combines elegance and creativity with innovation and research to design its exceptional line of jewelry.
BillyTheTree now offers over 180 items crafted by the Italian jewelry maker on its website, available for purchase through its online store. Its Officina Bernardi collection of sterling silver jewelry currently ranges in price from $55 to $1,340, with an assortment of unique styles and designs to select from. Many of the sterling silver pieces incorporate platinum or 18k gold into the design, providing an appealing complexity between the contrasting metallic shades.
Since Officina Bernardi is very selective about which jewelry retailers it permits to sell its products, BillyTheTree was honored to be certified as an authorized dealer. The jewelry's rare "moon cut" quality make the pieces particularly distinguished, creating a dazzling sparkle effect comparable to that of a diamond. The sophisticated and lavish nature of Officina Bernardi jewelry is sure to make it one of the hottest selling collections available on BillyTheTree.com.
To learn more about BillyTheTree, or view its collection of Officina Bernandi jewelry, please visit BillyTheTree.com. Contact store owner Robin Weber with inquiries about BillyTheTree or any of its specialty products.
About BillyTheTree.com
Founded in 2004 by Robin Weber when he was still a senior in high school, BillyTheTree.com offers a large variety of affordable, yet high quality jewelry, watches and sunglasses. The company carries several product lines, which include over 20,000 items, consisting of magnetic jewelry, gold jewelry, diamond jewelry, gemstone jewelry, sterling silver jewelry, jade jewelry, high performance sport sunglasses, and more. For more information, or to place an order, please visit: BillyTheTree.com.