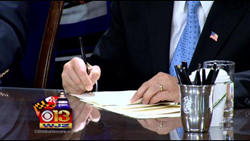 We're shifting away from this kind of false criminalization system that we have and moving to a system that can affect some change
Baltimore, MD (PRWEB) April 23, 2014
According to CBS Baltimore News, Senate Bill 364 reduces the penalty for possessing less than 10 grams of marijuana from a criminal to a civil offense. First-time offenders will face fines up to $100, while a second offense will be punishable with a fine up to $250 and subsequent offenses up to $500. Additionally, the bill requires third-time offenders or offenders under the age of 21 to be evaluated for substance abuse problems, and to attend drug education classes.
"The system doesn't really change other than we're not going to be criminalizing individuals with small amounts of marijuana," said Sen. Bobby Zirkin, bill sponsor. "The decriminalization of the possession of small amounts of marijuana will free up resources to fight violent crime throughout our state. "Under the new policy, possession of small amounts of marijuana is not a crime. There will no arrest, no jail time and no record. "We're shifting away from this kind of false criminalization system that we have and moving to a system that can affect some change," said Zirkin.
A spokesperson from A&A Packaging agrees that although the Bill does not completely exonerate marijuana users from using marijuana products under state and federal law without being fined, it does mark an important step in bringing the state closer to legalization in states like California, Colorado, and Washington. The A&A spokesperson also stated that they agrees with the decision to make the drug legal in the state as this will decrease the expenditures needed in the state for unnecessary prosecution of marijuana related offenses, and allow those resources to be spent on more beneficial programs such as drug addiction treatment.
A&A Packaging is the nation's largest supplier in marijuana dispensary packaging supplies and carries all varieties of compliant packaging to meet the requirements of each individual state that is able to support the legal distribution of medical as well as recreational marijuana. A&A Packaging's products carry huge value in product selection and bulk sized shipments for marijuana dispensing businesses.
For more information about how A&A Packaging can help your business, visit their website at http://www.marijuanapackaging.com or call (888) 315-2453
To read more about this topic matter visit the CBS Local article published on 4/14/2014: http://baltimore.cbslocal.com/2014/04/14/gov-omalley-to-sign-marijuana-decriminalization-bill/.