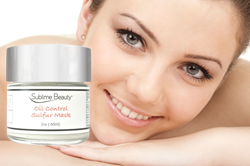 Today Sublime Beauty® debuts a sulfur mask that calms oil and dries acne, part of a line for oily skin needs.
St. Petersburg, FL (PRWEB) April 24, 2014
Oily skin has special demands, and Sublime Beauty® is launching a set of products to help.
Today the new Oil Control Sulfur Mask debuts. The sulfur is at 10%, known to address not only oil control but also breakouts.
The company offers a special 25% Off promotional discount at its webstore through Saturday: OILMASK25.
Only 5 to 10 minutes is needed for each use. The mask will not only control oily skin and dry acne, it helps minimize pores, reduce inflammation and keep skin clear.
"We have introduced the Oxygen Day Cream for oily skin and the Blemish Terminator® Serum. Now the Mask now joins the family to address oily skin. Shortly the Blemish Terminator® Salicylic Wash and Blemish Terminator® Zap will complete the line," says Kathy Heshelow, founder of Sublime Beauty®.
About: Sublime Beauty® focuses on quality anti-aging products that help replenish and repair aging skin to a healthy state. The motto is "Aging Younger". The company offers a niche with Skin Brushes and natural products for well-being. Products are available on its webstore SublimeBeautyShop.com and on Amazon.