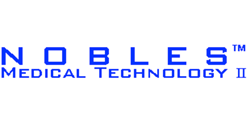 Fountain Valley, California (PRWEB) April 26, 2014
Following a successful meeting at the Congress of Structural Interventions (CSI) congress in Frankfurt last June NMT2 received significant inquiries to bring its PFO technology to new hospitals around the world. During the congress NMT2 trained several cardiologists from around the world and there was significant interest from cardiologists in Sweden, whom requested that NMT2 bring the NobleStitch to Sweden. This month NMT2 started taking orders for product and expects to deliver its first units to Sweden next month where patients are already scheduled to receive the NobleStitch.
Prof. Dr. Anthony Nobles, CEO of NMT2 said "We are very proud to bring the NobleStitch to Sweden, we have worked closely with the key heart center in Sweden and they have several patients that are waiting for the NobleStitch including those who cannot be treated percutaneously by the metal umbrella implants and can only be treated by the NobleStitch to avoid open heart surgery."
About Patent Foramen Ovale (PFO)
A PFO is a tunnel that exists between the left and right atrium of the heart. The tunnel, which is part of the normal fetal anatomy, should close shortly after birth. In 27% of the population the tunnel never closes. This tunnel can then allow clots and other chemicals to pass from the right to the left side of the heart freely bypassing the filter of the lungs. These clots and chemicals can cause strokes and other conditions such as severe migraines.
About the NobleStitch EL System
Nobles Medical Technologies II's NobleStitch EL is a catheter based system that allows a physician to place a suture in the PFO tunnel in the heart through a percutaneous puncture in the leg, in many cases under a local anesthetic in a catheter lab rather than an operating room. This eliminates the need for open heart surgery or placement of a large metallic implant in the heart. The NobleStitch is not a "device" or mechanical implant it only places a simple polyproylyne suture in the heart. By closing the hole or PFO, the therapy will reduce or eliminate the shunting from the right to the left side of the heart allowing the lungs to filter the clots and other chemicals from making it to the brain, potentially halting strokes and severe migraines and enabling patients to live a higher-quality life.
About Nobles Medical Technologies II
Nobles Medical Technologies II is a global structural heart company devoted to improving life through the development of its products and technologies. Nobles Medical Technologies II is focused on suture based solutions for the septum.
Visit Nobles Medical Technologies II