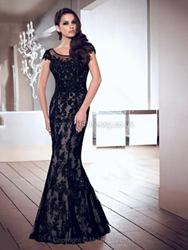 (PRWEB) April 24, 2014
Msdressy will mark the official opening of its Guangzhou salon with a Ribbon Cutting Ceremony on Wednesday, April 30th at 10:00a.m. Damon, the company founder, established Msdressy in 2003 after hearing lots of friends and family members complaining about the high cost of event attires. Msdressy is born with a basic idea of helping women finding dream evening dresses without bank-breaking prices. Nowadays, the company has gained popularity. Millions of ladies visit the salons and global website for searching prefect UK evening dresses, and Msdressy open a new salon in Guangzhou.
The Ribbon Cutting Ceremony will be held at Shangri-La hotel and there will a reception after the ceremony. Msdressy then will launch a Big Opening Sale online at May 1. Evening gowns are on sale $100 - $300 off. Wedding gowns are also on sale including new 2014 styles.
Marketing manager Hanson says, "The Ribbon-Cutting Ceremony is open to the public. We welcome our old customers and longtime retailers to come. And To celebrate the opening, every customer who register at the website will receive a £5 off coupon."
About Msdressy
Msdressy.co.uk, a one-stop shop for wedding and events. There are a great variety of beautiful wedding dresses, matching shoes, exquisite accessories for brides. No matter where you are or who you are. Msdressy.co.uk offers same low price to you. The dress collections will be updated every season in order to provide with you with the latest styles. Moreover, at Msdressy.co.uk, you can also have your dresses or gowns custom made if you can't find a right size.