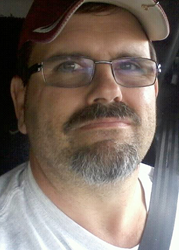 You put yourself in harm's way for a State Trooper who you did not know. Your actions undoubtedly saved [the trooper] from further injury and possibly death.
Alexandria, Virginia (PRWEB) April 24, 2014
Harry Welker of Broken Arrow, Oklahoma, who is a professional truck driver for Melton Truck Lines, Inc., of Tulsa, Oklahoma, has been named a Highway Angel by the Truckload Carriers Association (TCA). Welker is being recognized for helping to subdue a belligerent man who was involved in a "life and death struggle" with a state trooper.
On October 22, 2013, at about mid-morning, Welker and a trainee (who is not currently affiliated with Melton Truck Lines) had stopped at a rest area on I-70 in Kannapolis, Kansas. As they crossed the parking lot and entered the restroom facilities, they noticed a Kansas Highway Patrol trooper had pulled over a van for a traffic violation. It seemed like a routine matter, but not for long.
While the two men were inside the restroom, the trooper attempted to identify the occupant of the van. The man was evasive and provided several different names. Suspicions aroused, the trooper asked the man to get out of his vehicle and place his hands on the hood of the trooper's SUV. However, when he tried placing a handcuff on the man's wrist, the man became extremely hostile, attacked the trooper, and placed him in a chokehold. According to a written account by the superintendent of the Kansas Highway Patrol, "a life and death struggle then ensued," as the man punched the officer several times in the face and tried to gain control of the trooper's gun.
By the time Welker and the trainee began walking back to their tractor trailer, the incident had escalated to the point where the man and the trooper were violently fighting on the ground in the middle of the parking lot. The man had forced himself on top of the trooper; it appeared it was only a matter of time before he overpowered him. Welker and the trainee, who are U.S. Marine Corps veterans, immediately went to help. They tackled the man, helping to subdue him, but he continued to resist, even when the trooper used a stun gun. Eventually, with Welker and the trainee's help, the trooper was finally able to handcuff and arrest the man, who turned out to be wanted for parole violations in another state.
"It was my natural reaction to go over there and help. I didn't give it a second thought," said Welker, who spent eight years as a corrections officer for the state of Missouri and also used to escort prisoners for the Marines. "I'm not out to get recognition… I'm a concerned citizen who took action when action needed to be taken."
The Kansas Highway Patrol has given Welker a plaque for his selfless actions on that morning. "Mr. Welker, you exhibited a great deal of bravery when you, unselfishly and without regard to your own safety, responded to help [our trooper]," states the letter of thanks. "You put yourself in harm's way for a State Trooper who you did not know. Your actions undoubtedly saved [the trooper] from further injury and possibly death."
For his heroism, TCA has presented its latest Highway Angel with a certificate, patch, and lapel pin. Melton Truck Lines, Inc., also received a certificate acknowledging that one of its drivers is a Highway Angel.
Since the program's inception in August 1997, hundreds of drivers have been recognized as Highway Angels for the unusual kindness, courtesy, and courage they have shown others while on the job.
To nominate a driver or learn more about the program and its honorees, visit the Highway Angel Web page at http://www.truckload.org/Highway-Angel or Facebook page at http://on.fb.me/tcanews. For additional information, contact TCA at (703) 838-1950 or angel(at)truckload(dot)org.
# # #
TCA is the only national trade association whose collective sole focus is the truckload segment of the motor carrier industry. The association represents dry van, refrigerated, flatbed, and intermodal container carriers operating in the 48 contiguous states, as well as Alaska, Mexico, and Canada. Representing operators of more than 200,000 trucks, which collectively produce annual revenue of more than $20 billion, TCA is an organization tailored to specific truckload carrier needs.