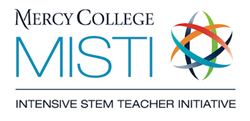 Dobbs Ferry, NY (PRWEB) May 02, 2014
The Mercy College Intensive STEM Teacher Initiative (MISTI) program is seeking applications from students who want to be teachers. The MISTI program is open to students who have completed their second year, are majoring in mathematics or biology, plan to achieve teaching certification and pursue a teaching career. Twenty MISTI Scholars over two years will be selected. Scholars earn $40,000 in scholarships as well as more than $5,000 in stipends as they progress through the program. In turn, MISTI Scholars must agree to teach for four years in a high-need school. The project is funded by the National Science Foundation (NSF) Robert Noyce Teacher Scholarship Program.
MISTI Principal Investigator, Meghan Marrero, Ed.D. said: "Teaching is a great way to project your passion for science or math. Inspire the next generation of learners. For students majoring in math or biology, MISTI will pave the way toward a rewarding career in STEM education."
Why Become a MISTI Scholar?

Earn $40,000 in scholarships plus more than $5,000 in stipends to support your studies to become a science or math teacher.
Earn both a bachelor's degree (in biology or mathematics) and a Master's degree in adolescence education.
Become a New York State Certified biology or mathematics teacher for grades 7-12, with support for passing the necessary certification exams.
Coursework and special pedagogical seminars prepare you for the realities of today's classrooms as you master effective teaching strategies, use of technology as an instructional tool, and ways to meet the needs of diverse students.
Participate in special summer experiences, e.g., the Summer Engineering Program, that prepare you for 21st Century Science, Technology, Engineering, and Mathematics (STEM) teaching.
Build collegial relationships with faculty, mentors and your peers. These people become your support network for the critical first years of teaching. You will take many of your courses, participate in the pedagogical seminars, and engage in the online community as a cohort, helping you to build a supportive community of practice.
Gain experiences in diverse classrooms by observing, working with small groups of students, and completing a year-long clinical residency prior to becoming a certified teacher, and continued support in your first years.
Get assistance from Mercy College faculty and Career Services professionals in securing a teaching position after graduation.
About Mercy College
Founded in 1950, Mercy College is a private, not-for-profit higher education institution that offers more than 90 undergraduate and graduate degree and certificate programs within five prestigious schools: Business, Education, Health and Natural Sciences, Liberal Arts and Social and Behavioral Sciences. Mercy College offers an engaging and personalized learning experience that includes the College's revolutionary Personalized Achievement Contract (PACT) program. The Mercy College PACT is the first program of its kind and now serves as a nationally recognized model for mentoring. http://www.mercy.edu/ 877-MERCY-GO.
###