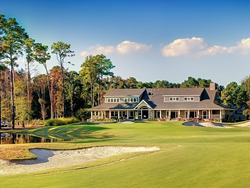 It's not just about the house anymore - people expect more from their vacation rental company.
Nags Head, NC (PRWEB) April 28, 2014
For the 2014 season, Stan White Realty will be extending K Club amenities and discounts to renters. The company will be the first in the industry to extend K Club membership to every vacation rental property in their program. While the K Club is provided by Kilmarlic Golf Club and offers discounts and complimentary services for golfers, membership also includes discounts for other popular Outer Banks attractions such as kiteboarding lessons and tours to see the famous wild horses of Corolla.
Bryan Sullivan, Director of Golf at the Kilmarlic Golf Club, partnered with Kitty Hawk Kites, Corolla Outback Adventures & Wild Horse Tours and Outer Banks Jeep to add some of the most sought-after Outer Banks activities to the K Club, which now includes select rental properties from over 10 major agencies in the area. K Club Membership is typically purchased and provided by individual homeowners to incentivize guests to choose their home over another in the same rental program. John White, CEO of Stan White Realty, didn't want guests to have to choose between the home they really want and a home with K Club membership. Opting to make the investment on behalf of their homeowners, Stan White Realty is able to offer membership across the board to every guest in every rental home. "By including each Stan White rental property in the K Club," says Sullivan, "John White along with the entire Stan White Realty staff are showing the level of commitment they have for an enhanced guest experience as well as the value they place on their homeowners."
"It's not just about the house anymore - people expect more from their vacation rental company" said White. "When I look back on my last family vacation, the most vivid memories I have are from exploring the area and trying new things together. I want to see other families have that same experience when they vacation with us this summer."
For over 35 years, Stan White Realty & Construction, Inc. has specialized in renting, managing, building, and remodeling vacation homes on the Outer Banks of North Carolina. Family owned and operated, they offer availability for over five hundred Outer Banks vacation rentals, including Nags Head, Duck, Corolla, Southern Shores, Kill Devil Hills, and Roanoke Island. To learn more about the company and Outer Banks vacation rentals, visit http://www.outerbanksrentals.com.