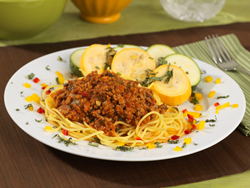 "WGC is perfect for the busy person who is wanting to look great, lose weight and enjoy delicious food," said Rachel. "No matter what your goals, you can eat healthy and start feeling great today!"
Upland, California (PRWEB) April 25, 2014
World Gardens Café (WGC) can be the answer you are looking for when thinking about how to be swimsuit ready in just a couple of months. With healthy meal options for almost all dietary needs and weight loss programs, World Gardens Café can help shape up bodies in no time. Eating well doesn't have to mean sacrificing flavor, World Gardens Café meals are prepared by renowned chefs making every meal healthy and delicious.
"When most people think of 'healthy' eating, they imagine flavorless and bland meals that are less than appealing," said says Rachel Wolfinbarger of World Gardens Café. "WGC meals allow you to eat healthy and delicious food no matter what your weight loss goals."
WGC offers meals for many of the most popular dietary needs and weight loss plans including gluten-free, vegetarian, low carb and low calorie. WGC meals are cost effective and can be delivered directly to the front door for residents in California, Arizona, Nevada and Utah.
"WGC is perfect for the busy person who is wanting to look great, lose weight and enjoy delicious food," said Rachel. "No matter what your goals, you can eat healthy and start feeling great today!"
For more information about the healthy, delicious and cost-effective meals delivered by World Gardens Café please visit http://worldgardenscafe.com/index.php/.
About World Gardens Café
World Gardens Café's mission is to create a healthier world by providing quick, healthy alternatives to fast food. Their food helps people of all ages and dietary needs live longer, healthier lives. As the premier provider of home-delivered, fully prepared, healthy gourmet cuisine, World Garden's Cafe specializes in providing gluten-free frozen meals to clients in California, Arizona, Nevada and Utah. The delicious and flavorful meals are prepared by celebrity Chef Ravi and are then carefully packaged, frozen, and delivered to consumers' homes. Customers can purchase food online or via phone, and have the convenient option of delivery or local pickup at Foothill Kitchens which is located at 360 W. Foothill Blvd, in Upland, CA.
For more information visit http://www.worldgardenscafe.com, like WGC on Facebook and Follow WGC on Twitter.