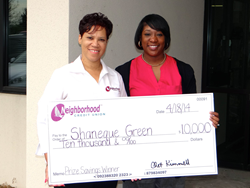 To actually see $10,000…Wow… I'm shocked. I think I'm more shocked than anything. This is awesome.
Coppell, TX (PRWEB) April 25, 2014
As a prize for her excellent savings habits, one shocked – and lucky –credit union member has found some excitement during Tax Week with a $10,000 reward in cash deposited in her Neighborhood Credit Union Prize Savings Account, and just in time to celebrate National Financial Literacy Month.
Shaneque Green was greeted at the doors of her workplace Friday morning by a group of Neighborhood Credit Union leaders and a giant $10,000 oversized check with her name on it.
"To actually see $10,000…Wow… I'm shocked. I think I'm more shocked than anything. This is awesome," said Green, gleaming as her eyes were fixed on the giant check.
Neighborhood Credit Union Senior Vice President, Carolyn Jordan, explained that Green's name had been drawn from the ranks of the credit union's Prize Savings Account holders for demonstrating commendable saving habits.
"On the behalf of Neighborhood Credit Union, I want to present this $10,000 to you as our March Prize Savings Winner, and also thank you for your lifetime of loyalty to the credit union," Jordan said. "We know that your excellent saving habits will serve as an inspiration for others."
Neighborhood Credit Union created the Prize Savings Account to encourage more people to save money and plan for their future by rewarding good saving habits with prize drawings throughout the year.
Green has been a Neighborhood Credit Union member for over 17 years. She first joined the credit union in high school to open her first bank account because her mother was a member. Green explained that she kept her account with the credit union because of the rewarding benefits. Since then, she's trusted the credit union with her checking and savings accounts, mortgage and several auto loans.
"I moved all of my money over to the credit union because I had been with big banks before and there were always issues of some sort, and you guys just never turned me down," Green said.
When asked what she might do with the unexpected cash, Green noted that she didn't have anything planned in particular but that her family and friends probably have a few suggestions.
View the video of the surprise delivery by clicking here.