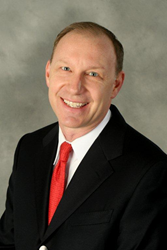 Annadale, VA (PRWEB) April 24, 2014
Patients of Dr. William Dougherty living near Annadale VA can now enjoy the benefits of a precise and minimally invasive gum disease treatment, the Laser Assisted New Attachment Procedure (LANAP®). Since periodontal disease has been linked to serious health problems such as heart disease, Dr. Dougherty encourages patients to take gum disease symptoms and treatment seriously. Laser gum surgery provides a safe and effective treatment for patients who would otherwise postpone traditional surgery.
When he performs LANAP®, Dr. Dougherty uses a special laser rather than a scalpel to remove periodontal disease. The wavelength of the Periolase® MVP-7 is transparent to teeth, bone, and gum tissue, so it only has harmful effects on gum disease. Using a laser also offers a few benefits conventional surgery does not. Laser gum surgery stimulates the roots of the teeth and the bone they are anchored in, encouraging growth and a more secure attachment between the two. The Periolase® MVP-7 also has a cauterizing effect on the surgical site, which reduces the risk of infections or similar complications.
Laser gum surgery is a relatively quick procedure with a short recovery time. Dr. Dougherty begins by measuring the patient's gum pockets and using the laser to remove gum disease. After removing calculus deposits below the gum line with a scaling tool, Dr. Dougherty uses the laser a second time, to stimulate bone regeneration and blood clotting. Most patients experience little or no bleeding and pain following the procedure. Many patients are able to return to work or normal activities the next day.
Dr. Dougherty encourages his patients in Annadale VA to pay attention to their oral health and, if gum disease treatment is necessary, pursue it as soon as possible. Gum disease can worsen conditions such as diabetes, and it is associated with an enhanced risk of serious health problems such as stroke, pancreatic cancer, and heart disease. Patients who notice symptoms such as bleeding gums, pain, redness, or swelling should call Dr. Dougherty's office to schedule gum disease treatment in Annadale VA as soon as they can.
About the Doctor
William V. Dougherty, III, DDS is a general dentist offering patients personalized dental care in Falls Church, VA. He is part of one percent of dental professionals providing the LANAP FDA cleared laser procedure for gum disease and periodontal treatment. To learn more about William V. Dougherty, III, DDS and his dental services visit his website at http://www.doughertylaserdentistry.com and call (703) 584-7554.