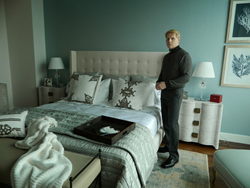 I created a luxury furniture and accessory line incorporating salvaged 'ocean leather' as an accent or the main appliqué on the furniture because of its beautiful texture, durability and eco-friendly source.
New York, New York (PRWEB) May 01, 2014
New York based, award winning Interior Designer Bjorn Bjornsson is delighted to present his new Icelandic Ocean Leather Home Furnishings Collection, a new furniture and accessory line incorporating Ocean Leather made from Icelandic fish skin. The end result, in this lively interplay between the natural world and divinely constructed milieu, is genius! Bjornsson has re-purposed these "ocean leathers," refining the hues for the modern palette for a line of furniture and accessories which appeal to both form and function.
For almost 20 years, Bjorn Bjornsson has established his own particular approach by unleashing his aesthetic ability and personality in the high-end interior design world. Bjorn has created many interiors for clients spanning European royalty, titans of Wall Street, denizens of high society and commercial buildings. Originally a native son of Iceland but now based in New York City, Bjorn rediscovered the craft of tanning fragile fish skins to produce fish leathers of incredible durability and natural look on a trip to his native land. Fish skins had been used for fashionable accessories, such as shoes, handbags and hats, since the 1940s in the couture fashion houses of Europe. These organic materials, recycled products of the fish industry, caught his attention and sparked his creative sensibilities to reinterpret this exotic "ocean leather". Bjornsson has reclaimed and re-purposed this material for high end accessories to dress the home.
"I decided why not use it on furniture. When I got back to my studio in New York, I created an furniture and accessory line, incorporating the fish skin as an accent or the main appliqué on the furniture. My design style is clean, classical and timeless and that goes for my furniture. I liked the fact that the skins, primarily from salmon, were salvaged and recycled as a by-product of the fish industry, eco-friendly, beautifully textured resembling snake skin but more durable and could be repurposed. The Ocean Leather, as I call it, is stretched and dried, treated for my color specifications before my work room gets it from Iceland. The skin is strong and can be applied onto surfaces of a cocktail table as well as a small stool, which you can see in my designs and also applied to bathroom accessories, desk accessory and other artifacts."
"The furniture is either wood and/or metal and produced here in the United States. The metal is handcrafted and hand forged in Pennsylvania and the wood is made at a wood worker in Long Island city. The furniture can be either painted, lacquered and /or in wood finish, the ocean leather is applied in my work room in Long Island City. I have long wanted to create a line that would incorporate the country I came from with the country I now live in and I truly believe that I have reached that goal and managed to achieve that with this line of furniture."
"With the ground breaking introduction of Ocean Leather, I created approximately twenty new designs from the Ocean Leather Collection that was introduced earlier this year. With a wide array of soft tones and natural hues that remain faithful to the firm's dedication to luxury textiles, the Ocean Leather Collection showcases accent furniture and objet d'art ranging from tables, consoles, mirrors, cocktail tables, stools, benches, bathroom and desk accessories, among others."
Bjornsson's line will be introduced at the 2014 Mansion in May Designer Showcase (http://www.WAMMC.org), benefiting the Morristown Medical Center, where he has designed the Billiard Room at the Blairsden Mansion, using a mix of his console, cocktail and side tables, including pillows throughout the space. The Ocean Leather Collection is now available on the designer's web site http://www.Bjornbjornsson.com or Email:
Bjorn@bjornbjornsson.com.