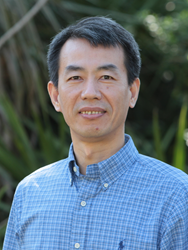 We congratulate Shujun on this major accomplishment.
Ormond Beach, FL (PRWEB) April 28, 2014
Emergency Communications Network (ECN), the nation's largest provider of mass notification systems, has announced one of its GIS Software Engineers, Shujun Li, has been formally certified as a GIS Professional through the GIS Certification Institute (GISCI). Li heads up ECN's mapping initiatives for the CodeRED Web-based mass notification system that includes geographically targeted mapping capabilities. Over the past 16 years, the system's critical mapping interface has been fine-tuned and tested and remains completely owned, operated and maintained by ECN, eliminating the possibility of failures beyond the company's control through a 3rd party.
As part of Li's responsibilities, he regularly updates the system's maps to ensure accuracy and reliability in a crisis situation. CodeRED clients representing state and local government agencies have the ability to add custom map layers to create additional detail that they may find pertinent to improve notifications in their specific geographic areas.
"Shujun has been with ECN since 2006 and has made invaluable contributions to our system's geographic capabilities that we know has been a critical tool for our clients in effectively notifying the public of time-sensitive information. We congratulate Shujun on this major accomplishment and support his continuing professional development in GIS that not only helps him professionally, but also significantly improves the quality of our notification solutions," said Gary VanOpdorp, ECN Director of Software Development.
As part of Li's certification, he was reviewed and acknowledged for GIS proficiency in three areas: 1) Educational Achievement 2) Professional Experience and 3) Contributions to the Profession. According to GISCI, educational achievement includes a degree, formal and informal coursework dedicated to geospatial technology as defined by the Geographic Information Science and Technology Body of Knowledge and related conference attendance. Additionally, professional experience divides GIS work into primary, secondary and tertiary duties. Li was also reviewed for proficiency in contributions to the profession including activities that benefit the larger profession and public.
About GIS Certification Institute
The GIS Certification Institute (GISCI) is a tax-exempt not-for-profit organization that provides the geographic information systems (GIS) community with an internationally-recognized, complete certification program. GISCI offers participants from the first early years on the job until retirement, a positive method of developing value for professionals and employers in the GIS profession. There are currently over 5500 active GISPs located throughout the world.
About Emergency Communications Network
Headquartered in Ormond Beach, Florida, Emergency Communications Network, LLC (ECN) has pioneered high-speed notification services capable of reaching millions of people in minutes. ECN's sophisticated network supports a Web-based product suite featuring six major services: CodeRED® which enables local government officials to communicate time-sensitive, personalized messages in a multimodal approach; CodeRED Weather Warning™ which provides automated alerts to people in the path of severe weather just moments after a warning has been issued by the National Weather Service; Code-ED® for use by school systems to improve communications with their communities; CityWatch™, a premise based, full featured outbound and inbound communication notification system; SmartNotice™, a business continuity and staff notification solution and MyDailyCall™ for scheduling calls to check on at-risk individuals, including the elderly, infirm and latchkey kids.