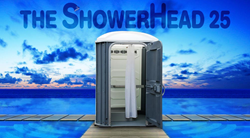 We want to be the last company you use, not the first.
Broad Channel, N.Y. (PRWEB) April 28, 2014
CALLAHEAD is known for always raising the bar in the portable restroom industry, and they are at it again. Their portable shower rentals in New York bring the convenience of a soothing hot-water shower anywhere that it is wanted or needed. From construction workers to first responders to marathon runners, the entire New York City population can feel renewed when they step into a CALLAHEAD portable shower rental in NYC.
With a variety to choose from, CALLAHEAD provides an outdoor shower to rent in New York City that is ideal for any location. Available for short-term or long-term rental, the ShowerHead 16 and the ShowerHead 25 both provide hot and cold running water, complete privacy with locking doors, occupancy indicator, cleanliness and comfort. Both New York portable shower rental options arrive in brand new condition and are fully stocked with soap and shampoo, so that users won't have to worry if they didn't bring their own. CALLAHEAD's outdoor shower rentals are maintained to the highest standards and cleaned with hospital grade disinfectants for complete sanitary protection.
With CALLAHEAD's outdoor showers rentals in New York City, the attention is in the details. The ShowerHead 16 and the ShowerHead 25 provide ample room for showering and changing, allowing the user to feel as if they are getting clean in the comfort of their own home. Each unit contains its own shower curtain for additional privacy, a clothes bag to ensure the items that need to be dry stay that way, and a hook for easy access to a dry towel when needed.
The locking doors, occupancy indicators, slip-resistant surfaces, and ample drainage allow the users of the CALLAHEAD portable shower rentals in NYC to wash all of the dirt, grime, and sweat away with complete peace of mind. They don't even have to worry about the water turning cold with the included advanced valve system with overheat protection.
Since each unit can connect to a variety of fresh or even seawater sources, the possibilities for CALLAHEAD's portable shower rentals in New York City are endless. They can help keep construction sites sanitary and safe by allowing workers to rinse off after contact with hazardous materials. At emergency or natural disaster locations, a CALLAHEAD portable shower rental can allow victims and first responders the opportunity to feel clean and revitalized. Even homeowners experience the benefits of an outdoor shower to rent in NYC such as during bathroom remodels or to keep in the backyard for family members after returning from the beach to eliminate sand and dirt inside the home. Portable shower rentals are also perfect for pool areas, beach locations, parks and sports fields.
Since 1977, CALLAHEAD has been committed to being the leader in the portable restroom industry, and their portable shower rentals in Long Island, New York are no exception. Charles W. Howard, CALLAHEAD's President and CEO, says it the best when he states, "We want to be the last company you use, not the first." From always sending customers portable sanitation equipment that is in like-new condition to providing amenities that make the user experience flawless, CALLAHEAD will not disappoint.
Currently serving the residents of New York City's five boroughs of Brooklyn, Manhattan, Queens, Bronx and Staten Island, and all of Westchester, Nassau and Suffolk Counties, CALLAHEAD has innovative products for any portable sanitation need. To find out more about long or short-term portable shower rentals in New York, contact CALLAHEAD at 1-800-634-2085 or check out their website to see all of the portable sanitation equipment they offer at http://www.CALLAHEAD.com.