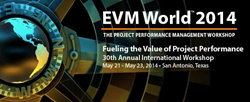 San Antonio, TX (PRWEB) May 01, 2014
The College of Performance Management (CPM) has announced the topic and timing for a special EVM World Preview webinar for EVM World 2014. The webinar will discuss earned value management training, implementing earned value management and an overview of practice symposia. It will take place on Thursday, May 8th at 12:00 p.m. U.S. Eastern Time. The webinar is free to attend. For more information or to register, click here.
"This is great chance for people to get a flavor for the incredible program lined up for EVM World 2014," said Ms. Susan Wood, EVM World 2014 Chair and Immediate Past President of CPM. "Besides that, it will be educational as an introduction to specific areas of earned value management and project management that can Fuel the Value of Project Performance."
Specific topics covered include:

Getting Ready for EVM – R. Scott Brunton, Lewis Fowler LLC.
EVM Training Overview–Bill Mathis, CPIC Solutions
Practice Symposia Overview –Dale Gillam, SAIC
The 30th Annual EVM World will take place May 21st through May 23rd, 2014, in San Antonio, Texas. The theme of the event is "Fueling the Value of Project Performance." EVM World is the premier annual event for project performance management techniques and earned value management. It offers outstanding training, excellent networking, in-depth sessions with leading experts, workshops, case studies and the opportunity to learn about the latest techniques and tools to improve project performance. Visit the EVM World website for more information.
The College of Performance Management (CPM) is an international, non-profit professional organization dedicated to the disciplines of earned value, performance measurement and project management. Headquartered in Alexandria, Virginia, USA, CPM is the world's leading source of education and information related to earned value management and other performance management techniques. For decades, the CPM Community has been responsible for leading, developing, promulgating and training people on the program management techniques used by the private sector, the U.S. Federal Government and around the world for successful program performance management. CPM is a growing body of professionals dedicated to managing projects that deliver the right outcomes on time and on budget. For more information, visit http://www.mycpm.org.
Press contact: Mark Phillips, PMP, CPM VP Communications, at Mark.Phillips(at)mycpm(dot)org
Source: College of Performance Management