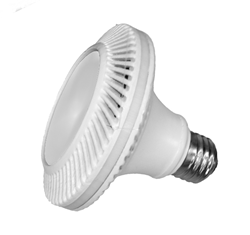 "Consumers are able to replace the Power Supply as easily as replacing batteries in a flashlight."
Clinton, Utah (PRWEB) May 01, 2014
A direct replacement for existing light bulbs for recessed, track, and display lighting, the new HiveSSL LED PAR30 raises the bar for the LED lighting industry. Its innovative design allows consumers to get full life expectancy of their bulb by utilizing both a proprietary and patent-pending heat sink, and a patent-pending replaceable power supply.
HiveSSL will debut their new game-changing LED PAR30 light bulb in the fourth quarter of 2014. The new dimmable bulbs use only 6 Watts to produce 790 Lumens and have a life expectancy of 90 years and a patent-pending replaceable power supply. HiveSSL bulbs use 50% less energy than most of their competitors LED bulbs and cost about 72 cents per year to operate.
Utilizing this replaceable power supply technology, a consumer can simply "pop out and pop in" a new power supply, a unit that is most likely to fail on an LED bulb. Consumers are reminded how this is similar to using flashlights – when it quits working, they change batteries; they don't throw away the flashlight.
As a result of achieving 100,000 hours of life expectancy in independent testing, HiveSSL will offer a 50-year warranty on the LEDs and a 10-year warranty on the power supply. This is a direct reflection of the confidence HiveSSL has in their design and product.
The company is presently offering the public an opportunity to be part of this innovative lighting through two web-based crowd-funding sites: Kickstarter.com and Indiegogo.com. Enter "hivessl" in the search bar.
About HiveSSL
Founded in 2008, HiveSSL discovered that the quality, lifetime and brightness of LED bulbs were not to the standards in which they wished to associate with. So switching gears, they started to design and engineer a product that they felt proud to present to the American people. With 50 plus years of combined experience in manufacturing and electronics, founders Allen and Jim Whittle produced a design that exceeded all expectations of quality, brightness and power conservation. With a patented unique heat sink and a patent-pending replaceable power supply, HiveSSL bulbs have become true leaders in the industry.