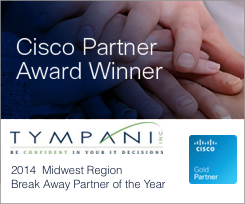 This award is a testament to the growth we have had over the last year across all Cisco technologies. It symbolizes our commitment to bring advanced technology solutions to our clients that drive business value and enable their success
Chicago, IL (PRWEB) April 28, 2014
Tympani announced today that it was named Cisco's 2014 Midwest Region Break Away Partner of the Year. Cisco unveiled all award winners at their awards reception during its annual partner conference that took place in March in Las Vegas.
"This award is a testament to the growth we have had over the last year across all Cisco technologies. It symbolizes our commitment to bring advanced technology solutions to our clients that drive business value and enable their success," said Ed Kapelinski, President of Tympani.
Cisco Partner Summit awards reflect the top-performing partners within specific technology markets across several geographical regions. All award recipients are selected by a group of Cisco Worldwide Partner Organizations and regional Cisco executives.
About Tympani
Tympani, an IT consulting and engineering firm headquartered in Downers Grove IL, provides advanced technology solutions in the areas of IT Infrastructure and Communications. Marquee Mid-Market and Enterprise clients leverage the business experience of Tympani consultants and the technical competencies of expert level engineers to help confidently assess strategic value. The end goal is to align delivery of the highest quality, least cost systems with internal client business needs and objectives.
Tympani minimizes the risk inherent in advanced technology investments by committing to process oriented execution which results in positive predictable outcomes, the ability of clients to have a say in selection of their Tympani engineering team and a strong set of values to deliver on promises – ultimately giving Tympani customers confidence in their IT decisions.
Tympani is recognized by major OEMs for their expertise and consistent execution around best practices.