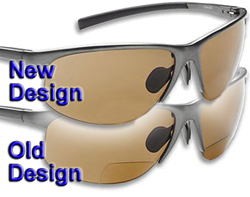 This new free-form bifocal design from Shamir is creating several exciting possibilities that were simply not an option until now.
Dallas, TX (PRWEB) April 29, 2014
Prescription bifocal sunglasses on a wrapped sports frame have traditionally created a peripheral distortion referred to as a "fishbowl effect." Free-form lens surfacing eliminated this problem a few years ago by recalculating the curve at every point on the back of the lens, but until recently these free-form lenses were only available in Single Vision or Progressive lenses. The prescription lens blanks for free-form lenses are basically a blank puck. Prescription lens blanks for bifocal lenses have always had the reading power already in the lens, so the benefits of free-form technology were not compatible with a bifocal lens. The distortion created by using standard surfacing in sports eyewear was so significant that ADS Sports Eyewear did not offer bifocal lenses as an option in most sports eyewear. This new free-form bifocal design from Shamir is creating several exiting possibilities that were simply not an option until now.
When a progressive lens was the only option for active people who require assistance to see items up close, their lenses had a reading corridor that allows the user to focus at a variety of near and intermediate distances. But this reading portion takes up a lot of space in the lens. This new free-form bifocal can consume less than half the lens space of a progressive corridor, and the line is invisible. So prescription motorcycle glasses will allow motorcyclists to read gauges without obstructing their view of the road. Prescription ski goggles will allow skiers to read a trail map or a phone without distorting their view as they look down a ski slope. And prescription fishing sunglasses can go back to the bifocal design that makes it easier to bait a hook. The list of active people who can play or compete better with this new bifocal design is truly an eye opener.
Introductory prices for this new free-form design are starting below $160.00 per pair. The line in this bifocal is not visible to other people, but the user will not see a blurred line like previous blended segment bifocals.
ADS Sports Eyewear has specialized in prescription sports sunglasses for over 10 years, and is very proud to be one of the very first companies to offer this exciting new lens design. Based in Richardson, TX, ADS Sports Eyewear has a well-stocked retail store, but most sales are from their web site at http://www.adseyewear.com.