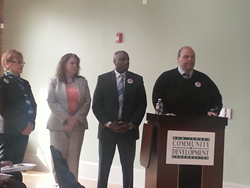 Paterson, NJ (PRWEB) April 28, 2014
On Tuesday, April 22, 2014, six of the eight Paterson mayoral candidates participated in a forum on Community & Economic Development. The forum was co-sponsored by the New Jersey Community Development Corporation (NJCDC), Eva's Village, Paterson Habitat for Humanity and St. Paul's Community Development Corporation. The candidates were asked to describe their community and economic development platforms, as well as answer questions relating to Paterson's overall revitalization.
Questions were posed to the candidates by Bruce Lowry, Assistant Editorial Page Editor of the Herald News, who served as moderator. Specific questions addressed affordable housing, the Municipal Utilities Authority and the Department of Community Development, private and public resources and partnerships with the nonprofit community. "It was a pleasure to serve as co-sponsor of the Mayor Forum," stated Marie Reger, executive director of Eva's Village. "I am especially pleased that the candidates did thorough job in addressing the questions that were presented. We want to have a clear understanding of each candidate's position on important issues that directly affect the clients we serve such as affordable housing and community development. It is imperative that we stay abreast of those issues and work collaboratively with the city's next Mayor to address them so we are able to care for the Paterson's most vulnerable populations."
The candidates who attended were current Mayor Jeffrey Jones, David Gilmore, Donna Nelson-Ivy, City Councilman Rigo Rodriguez, City Councilman President Andre Sayegh, and former Mayor Jose (Joey) Torres. Unable to attend the forum was former City Council member Aslon Goow Sr. and Maria Teresa Feliciano. "I am glad that we were able to hear directly from the Mayoral candidates regarding their plans to revitalize Paterson, and the vital role that non-profit organizations will play in our city's comeback," stated Robert F. Guarasci, chief executive officer at NJCDC.
About Eva's Village:
Founded by Msgr. Vincent E. Puma in 1982 as a response to the poor and homeless in Paterson, NJ, Eva's Village is a non-profit comprehensive social service organization. Through more than three decades of service, Eva's Village has established a unique record in facing community challenges and changing the lives of the hungry, homeless and addicted. It has grown from a simple soup kitchen to become the most respected anti-poverty program in New Jersey. Eva's Village now includes fifteen integrated programs housed in numerous buildings spanning several city blocks in Downtown Paterson.
About New Jersey Community Development Corporation:
New Jersey Community Development Corporation (NJCDC) is a private, non-profit community development and social service agency founded in 1994 with a mission of creating opportunities to transform lives. The focus of their work is the City of Paterson. Their core work and organizational focus is on neighborhood revitalization, positive youth development, education, affordable and supportive housing, the preservation of the Great Falls Historic District, and direct public-policy innovation.
About Paterson Habitat for Humanity:
Paterson Habitat for Humanity is an independent affiliate of Habitat for Humanity International, a non-profit, ecumenical housing ministry based in Americus, Georgia. Paterson Habitat for Humanity creates homeownership opportunities for families with limited income. They are committed to building decent, safe affordable homes that are energy efficient, environmentally responsible and economical to maintain.
St. Paul's Community Development Corporation:
St. Paul's Community Development Corporation was founded in 1990 as the outreach mission of St. Paul's Episcopal Church in the City of Paterson, New Jersey. They are a separate, secular, not-for-profit organization guided by a diverse and voluntary board of directors that bridges racial, economic, geographic, and religious boundaries. Their purpose is to alleviate the conditions of hunger, homelessness, unemployment, poverty, and illiteracy in the City of Paterson.