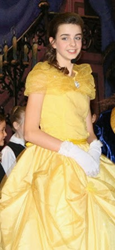 (PRWEB) April 29, 2014
The Everest Academy Drama Club recently presented the Beauty and the Beast in two back to back performances. As cast members sang and danced away, audiences were treated to a visually stunning set and an array of costumes and props worthy of a Broadway show. Whether they were dancing plates or singing silverware, talking furniture or talking trees, growling wolves or frantic townspeople out to "Kill the Beast," students from as young as first grade through middle school and junior high worked together heroically to present one of the sweetest stories of love and beauty ever told.
Sixth grader Kate Beecher from Lemont stunned audiences as Belle, topping her performance as Dorothy in last year's Wizard of Oz. As one mother working back stage said during the performance, "The only thing more beautiful than Belle's yellow dress was the sound of her voice!" That yellow dress, iconic in any modern day performance of Beauty and Beast, was put together by Kate's mom, Lisa Beecher, who helped tirelessly with the costumes, admitting she had turned her dining room into a sewing room in preparation for the play. The Beast was performed by sixth grader Payton Mollo from Lemont who completely stepped out of character to transform himself into a gruff and angry monster.
Supporting roles included the singing teapot, Mrs. Potts, and her tea-cup son, Chip, played delightfully by Lemont residents, Cassandra Hamilton and Maximus Zarate. Brothers Jacob and Riley Stone of Lemont brought laughter to the crowd as Lumiere and Cogsworth, the talking candlestick and clock. Sophia Colarelli of Lockport stood tall as Madame de la Grande Bouche, the talking wardrobe, while Ysabella Zarate of Lemont elegantly portrayed the enchantress and the wilting rose. John Beecher of Lemont was the perfect sidekick, Lefou, while Jessica Janus of Homer Glen was perfectly sinister as the asylum owner, Monsieur d'Arque. Belle's quirky father Maurice was performed by John Paul Colarelli of Lockport who also treated the audience to an opening performance of "Be Our Guest" on the piano followed by fellow pianist Natalia Oblazny's performance of the signature "Beauty and the Beast".
The Everest Academy Drama Club is especially grateful for the hard work and dedication of Music Director, Janet Podczerwinski and Drama Director Becky McNulty. Mrs. Podczerwinski, a professional vocal coach, choir director at Kingswood Academy and cantor at St. James of the Sag Parish in Lemont, was running the students through vocal exercises up until just before the show began. Mrs. McNulty, a professional choreographer, dancer and actress who currently performs and choreographs for community theatre and has directed children's musicals for the past six years, put in countless hours, both at Everest Academy and at her home, producing dance and music videos for the students to review. Along with her husband, Chuck McNulty, and many parents who volunteered their time and talents, this year's performances were a fantastic hit for all involved.
As the entire cast filled the stage for their final number and the music built to its closing crescendo, an Everest dad sitting on the sidelines surprised everyone by shooting off string confetti, filling the air with magical colors and delighting both the cast and audience alike.
Everest Academy is an independent Roman Catholic school in Lemont educating children from preschool through eighth grade. Science is taught in all grades, including preschool. The teachers and staff are dedicated to forming the whole child by providing the highest level of academics, by building strong character, and by preparing generous leaders ready to serve the community. To learn more about Everest Academy's unique approach to education, please contact Katherine Wollenberg at 630-243-1995 or visit: http://www.everestadvantage.org.