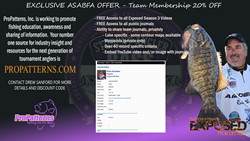 Youth organizations like the ASABFA are the future of our sport.
Yankton, South Dakota (PRWEB) April 28, 2014
Priding itself in education and entertainment with its Exposed Series, journaling groupsource function, and the upcoming Exposed Eligible? contest, ProPatterns, Inc. has partnered with the ASABFA to broaden its reach into the youth segment. According to pro angler Drew Sanford, who serves as Vice President and Marketing Director for the ASABFA, entering into promotional relationships with companies like ProPatterns "gives upcoming anglers an opportunity to be seen by many people."
Sanford will be appearing in an upcoming Exposed Eligible? promotional video and adds that the "ASABFA is bringing so many new faces to the sport that [promotional relationships between companies like ProPatterns and the ASABF] creates both increased awareness and an increased market size."
The ASABFA, which offers students $35,000 in scholarships, has designed its organization with learning in mind. According to Sanford, "Education is key to success." Sanford tells ProPatterns that the ASABFA is structured in team format and is not individual based. "This means all anglers help each other on their team," Sanford explains, "and the learning curve increases skills much faster."
This same philosophy of education has driven ProPatterns, Inc. since its inception. With its Exposed video series, which offers an inside look at how pros plan and prepare before Elite competition, and its online journaling function, which allows pros and amateurs alike to chart and follow each other's catches and assess conditions and patterns in real time, ProPatterns has set out to demystify the process of bass fishing by leveraging top talent in the sport to create a community of teachers and learners.
According to ProPatterns CEO and President Chad Ekroth, "Exposed has been a showcase of the top anglers in the sport for the past three years. With the Exposed Eligible? contest, we're now giving amateur and youth anglers the chance to show off their talents and shine. Youth organizations like the ASABFA are the future of our sport. We'd be delighted to see these young anglers working on educating and industry endorsement, with today's gadgets creating a self promotion video is cost effective, having the right venue like Exposed to share the video is a must for aspiring anglers!"
The two-day ASABFA state tournament will occur at Neely Henry Lake in Gadsden on May 9-10. For more information about the Alabama Student Angler Bass Fishing Association, its membership requirements, and upcoming tournament information, please visit http://www.asabfa.com.
About ProPatterns, Inc. and Exposed:
ProPatterns, Inc. is a leader of angling education by sharing professional fishing tips, industry information, and member services online. In addition, ProPatterns offers prize filled competitions, sharing of information among peers, and connections to industry professionals and media through means available nowhere else.
Information is gathered from various sources and disseminated with members in a variety of ways. The Exposed video series, for example, gains all of its integrity from an alignment with the biggest names in the bass fishing industry including professionals who fish with BASS, FLW, and PAA. Cooperation from the anglers and their willingness to share is the catalyst for the growth of this series.
For Exposed Eligible? contest information and rules, the Exposed video series, and all other ProPatterns offerings, and to become an ELITE or Social ProPatterns member, please visit http://www.ProPatterns.com.