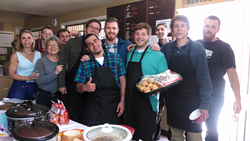 I was happy with the outcome, win or lose, because it is not about the accolades I received, but the willingness to try.
Flagstaff, AZ (PRWEB) April 28, 2014
Back2Basics drug and alcohol, long-term treatment center took home 1st place in the chili cook off held at the Alano Club in Flagstaff, AZ. Proceeds benefit at state youth group.
Residents Jake, Joe, Jon and Shane from competed against others in the community.
"My favorite part of the whole thing was just hanging out with people I normally don't talk to, and making friends outside of Back2Basics," said current resident Jake.
As a part of the six-month long rehab program residents take a weekly culinary class with Culinary Director, Kathy Arreola where they learn how to meal plan, grocery shop, prepare their own food and proper cooking methods and knife skills.
"[For the competition] I encouraged the residents to work as a team and try to be as unique as possible with flavors and presentation," said Arreola, who has about 40 years in the food service industry.
Arreola assisted the residents in further developing an existing chili recipe out of the Back2Basics in-house cookbook. Residents went the extra mile in presentation and taste.
"I was impressed with our finished product so I went into the competition pretty confident," said current resident Shane. "The fact that we made a green chili set us apart from many of our opponents, who made traditional chili."
For Back2Basics resident Joe, the reward was far greater than first place. "Events like the cook off make me excited about sobriety because it is a chance to do something positive in my recovery. I was happy with the outcome, win or lose, because it is not about the accolades I received, but the willingness to try."