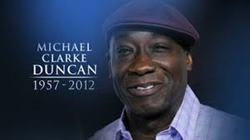 Park City, UT (PRWEB) April 28, 2014
Android TV News: The Rough Movie Trailer Michael Clark Duncans last movie
"Hi, Im Taraji P. Henson and you're watching Android TV," said Taraji Jenson
Dr. Catana Starks made history as the first woman and the first African American woman to coach a men's college golf team.
From the Rough is a sports drama film based on the true story of Catana Starks, a former Tennessee State Tigers swim coach, who became the first woman ever to coach a college men's golf team. With drive, passion, and guts, she took an unruly group of mismatched kids from around the world and guided them to an all-time record at the PGA National Collegiate Minority Championship.
Tasked with building Tennessee State's first golf team and finding only one available African American golfer – Craig, a former caddy with plenty of talent but no confidence – Catana Starks pushes outside TSU's Historically Black context, and, against huge resistance, opens up the roster to underprivileged kids from around the world. The film stars Taraji P. Henson as Coach Starks, as well as Tom Felton, Michael Clarke Duncan and LeToya Luckett. The film was co-written by Michael A. Critelli and Pierre Bagley and directed by Bagley.
Director: Pierre Bagley
Writers: Pierre Bagley, Mike Critelli (screenplay)
Stars: Tom Felton, Michael Clarke Duncan, Taraji P. Henson
ANDROID TV™ covers red carpet, award shows, movie premieres and original productions. ANDROID TV™ will have exclusive sit down interviews with the biggest celebrities.
"We are excited to continue our mission that started in 2006- of distributing red carpet & exclusive interviews, entertainment news, independent film making,TV and movie content," says Fernando Escovar original founder of ANDROID TV™ products and services.
Exo Level and the ANDROID TV™ development team have created a cult following. Consumers are willing and eager to pay nearly double the price of competing devices like Apple TV and Roku for a better performing EXOON tv set top box.
Consumers and developers alike love the quad core processor, upgraded chipset and custom rom that comes fully rooted which allows users super privileges to fully customize their EXOON set top box with 3rd party add-ons.
"The world renowned technology we have developed is changing the way we communicate with our TV and devices overall," says Jason Labossiere President of Exo Level
Exoon Power Pro includes channels like movies and television, music-only channels featuring all of the latest hits, news channel support from providers like Fox News and SkyNews, Latino-oriented content, family content and more. Exoon Power Pro also supports many existing services that you may already subscribe to like Netflix, Hulu, Vudu, Pandora and other popular services through the set top box, allowing you to seamlessly integrate the service into your existing home theater configuration.
Exo Level will be running an extensive advertising campaign to attract new customers to the already stable and increasingly popular user base. Dubbed the "We Love TV" campaign, it is designed to showcase what makes the ANDROIDTV.com so attractive to consumers with a wide variety of different tastes and interests.