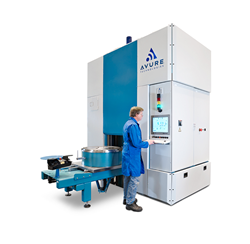 The Avure deep-draw press will play a vital role in our jet-engine program. - Devrim Erik, Operations Manager, Kale Pratt & Whitney
Västerås, Sweden (PRWEB) April 28, 2014
Kale Pratt & Whitney, a joint venture between Kale Holding of Istanbul, Turkey, and world-leading aircraft engine manufacturer Pratt & Whitney, USA, has ordered a hydroform deep-draw press from Avure Technologies.
The press, slated to become operational in the spring of 2014, will be installed at a new Turkish facility, which is part of the Kale Pratt & Whitney partnership to create a world-class manufacturing capability to produce best-value aircraft engine components for customers around the world.
"Avure's new deep-draw press will enable high-end aircraft engine providers like Kale Pratt & Whitney to produce high quality sheet metal components with great accuracy, repeatability, and lower costs," explains Sture Olsson, Avure's Global Business Unit Director for Sheet Metal Forming. "Material draw ratios of up to 3:1 are achievable, eliminating several forming operations, intermediate heat treatments, and operator dependencies. The hydroform process requires only one rigid tool half, the other being a flexible rubber diaphragm, leading to significant tool cost savings."
According to Devrim Erik, Operations Manager at Kale Pratt & Whitney in Izmir, Turkey, the Avure press is expected to help the new facility meet ambitious production goals.
"The Avure deep-draw press will be a very important piece of equipment used in our sheet metal fabrication area and will play a vital role in the jet-engine program," Mr. Erik states. "We chose Avure not only due to their vast experience in providing state-of-the-art high pressure presses but also due to their capability to support us in gaining the required application know-how for this complex manufacturing process as deemed necessary in the technology ramp-up phase we have ahead of us."
About Kale Pratt & Whitney
Based in Turkey, Kale Group has established Kale Pratt & Whitney through a joint venture between Kale Holding and Pratt & Whitney, the aircraft engine industry giant in the global aviation sector. The primary business focus of the joint venture is the production of aircraft engine parts and sub-assembly groups, such as the F-135 and the new PW1000G, currently selected as the exclusive engine for the Bombardier C Series, Mitsubishi Regional Jet, Embraer's second generation E-jets, and as an option on the Airbus A320neo.
Read more about Kale Aero: http://www.kaleaero.com/index.asp.
Read more about Pratt & Whitney: http://www.pw.utc.com.
About Avure Technologies
An innovator with a strong record of accomplishment, Avure Technologies demonstrates its expertise in high pressure by occupying leadership positions in industrial and food applications. The company is the largest global provider of ultra-high pressure systems utilized to form sheet metal, to process advanced materials, and to pasteurize foods without heat or chemicals.
Avure has installed over 1,700 high-pressure systems worldwide, more than all other competitors combined. These systems are characterized by technically sound design, superior reliability, energy efficiency, low maintenance costs, and many years of experience. Many Avure presses have been in service for more than 40 years, and some have surpassed 1 million high-pressure processing cycles.
Avure Industrial Group headquarters in Västerås, Sweden, house equipment design, manufacturing, and support operations, with additional facilities in Columbus, Ohio, USA, and regional sales and support operations globally.
Read more about Avure Technologies: http://industry.avure.com.