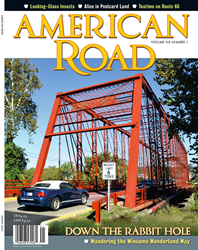 Detroit, Michigan (PRWEB) May 05, 2014
Everyone enamored with road travel remembers the first time they set out on a highway and somehow tumbled into Wonderland. American Road's Spring 2014 issue excursion starts at "Wonderland Way," a feature that traces a 1921 scenic route set against the shores of the Ohio River. Underground caverns, Lincoln logs, Santa Claus, and a New Albany art club named for the route are parts of its watercolor composition. So are "Peggy"—a horse turned into a Model T with wings—the nine turns up Corydon Hill, and an iron bridge to yesterday called the Triple Whipple. The Wonderland Way may be the most scenic early auto trail winding through the Midwest.
Kids of all ages will enjoy the American Road® tribute to six larger-than-life, long-eared leapers in "Hopping the Hippety Highway." "Alice in Postcard Land" reinterprets, chapter by chapter, the tale told by Lewis Carroll's classic Alice's Adventures in Wonderland, using vintage postcards to illustrate the story.
Road departments delve deeper into the Tulgey Wood. Readers discover big blue caterpillars at the Sophia M. Sachs Butterfly House off US 40, stop for tea along Route 66, and meet a president who is a tree on the Old Spanish Trail. It's all great fun, as a gryphon might say.
Find a rabbit hole this spring. Squeeze the chassis through and explore the back roads. And never surrender one tick-tock of the clock without appreciating the wonders of this world.
What's New
American Road® offers a digital edition; an iTunes app for the iPad; and a mobile site optimized for iPhones, Androids, and other smartphone devices. Improvements to americanroadmagazine.com enable better navigation and provide the visitor with tools that make it easier to locate that roadside attraction or vintage motel, discover that hidden landmark, and make new memories on the road less traveled. Readers will find sponsored downloadable trip itineraries that make travel planning a breeze, as well as the American Road® Forums—the ultimate road trip community.
American Road® is an award-winning periodical published quarterly by Mock Turtle Press, distributed internationally by Disticor, and now available at newsstands and fine bookstores.