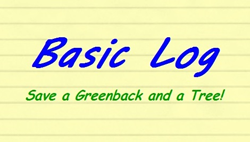 New York (PRWEB) April 29, 2014
BasicLog, a software design company, is pleased to announce the launch of its fully customizable, paperless online event-tracking system.
BasicLog allows a company or a department to electronically organize and record events. Potentially generating significant savings on the use of paper, ink, storage and reducing the impact on the environment.
BasicLog brings the record keeping system into the 21st century. Many companies have gone completely paperless or are approaching it and those that are not are quite apt to lose ground, and eventually get left behind. BasicLog modernizes your record system by allowing the company/department to:

Make a computerized list of all company or department events.
Quickly create, track, sort, and retrieve the customized list of events, e.g., when, where, and why an event occurred.
Create e-mail and text notifications to notify end users and other key personnel when a new event is entered or updated.
Use message boards to make end users aware of all new and important information
Easily access BasicLog via the Internet, no 3rd party installation needed. Most Web browsers such as Internet Explorer, Google Chrome, Safari, and Firefox recognize BasicLog's design.
Training tutorials for the administrator and the user is available to provide a step-by-step introduction on how to use and make configurations to the log.
Email support is available 24 hours a day, seven days a week that can answer your questions.
Run, print, save, and distribute paper reports via email on demand.
BasicLogs' free 30-day trial (no credit card needed) is available to show its functionality and familiarity with the software before signing up for a membership.
In this global economy making a quick and right decision by management is very important. As soon as an event is entered an email can be sent to management where they will be aware of the event and can act appropriately. Furthermore, because it is computerized, the questions in the event can be made required, so that the important and key information will not be forgotten."
Perhaps most important of all, BasicLog can be used by essentially anyone who keeps track of records and events; anyone who likes their records systematically sorted; and anyone who needs to retrieve the who, why, and how of any event and needs to do it very quickly.
A partial and very incomplete list of companies where BasicLog can be used – factories, bars and restaurants, colleges and universities, hospitals, golf courses, retail establishments, and construction business…actually, the list is virtually endless.
For more details, visit the website at BasicLog.com.