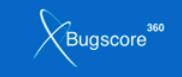 It is more valuable than current 360 feedback tools because it allows employees to rate each other as they are working together.
London, UK (PRWEB) April 29, 2014
Bugscore Ltd. introduces Bugscore 360, a real-time comprehensive review tool that helps employers and human resources managers monitor their employees' quality of work and overall output. Businesses will benefit from the web-based software, which allows employees of all levels to rate each other based on customizable attributes. The software is live as of today and will be available at http://www.bugscore360.com.
Two white papers have been created by Bugscore Ltd. in order to describe how Bugscore 360 differs from conventional 360-degree-feedback and to help employers educate their employees on how to successfully use the software. Both employers and employees will be more satisfied with how much easier and straightforward the review process is. Because of new technology, everyone can benefit from the quick and predictive feedback offered, allowing both employer and employee to understand areas of strengths and weaknesses. Since feedback is given instantaneously, conflicts can be resolved faster, and companies have a better chance of keeping their best employees.
"Real-time, big-data reports can be gathered effectively with Bugscore 360," explains Chief Operating Officer, Zissis Skouloudis. "It is more valuable than current 360 feedback tools because it allows employees to rate each other as they are working together, which enables upper management to be aware of issues before they get out of hand. We foresee that this new software could disrupt the existing talent management market."
The customizable 360-degree-feedback software is useful for any business. Employers and human resources managers are able to tailor which traits they want their employees to rate each other on. Varying job titles or departments can encompass different lists of attributes. Departments and subsidiaries can be arranged so that scores can be tracked for each. Employers can be alerted instantly when an employee or department falls behind a standard. These and many more features are available with the software. Find out more about Bugscore 360 on Facebook.
Businesses that desire a more thorough way to review their employees can read Bugscore's description of how their solution-creating software is changing the talent management market in the white papers located at https://bugscore360.com/white-papers.html.
About Bugscore Ltd.
Bugscore Ltd. is the first enterprise to release a real-time talent management solution that offers big-data reports. The registered UK company is comprised of professionals with a vast amount of experience in research, analysis, programming, engineering, human resources, marketing, and further diverse industries. They have previously developed a successful online scoring platform, Bugscore, which allows consumers to rank and compare any business, product, or person. To view more information about how Bugscore 360 works, visit http://www.bugscore360.com or the company's Twitter page.