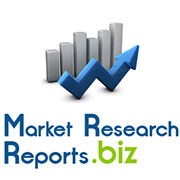 China Biomass Power Generation Market, 2014 - 2018
(PRWEB) April 28, 2014
Research and Development Trend Forecast of China Biomass Power Generation Market, 2014-2018 primarily carries on analyses of China Biomass Power Generation Industry in the following aspects: market scale, supply and demand situation, regional competitive landscape, current technologies and market segments as well as business performance of major enterprises; meanwhile it makes an analytical prediction about future biomass power generation industry, so as to offer decision-making references for investors.
China enjoys abundant biomass energy resources. Crop straws, following coals, petroleum and natural gases, are the fourth largest resource in China. In accordance with development guideline of building up conservation-minded society, it plans to have installed capacity of biomass power generation reaching to 13 million KW and 65 billion KW/h of generating capacity.
Browse Full Report With TOC: http://www.marketresearchreports.biz/analysis-details/research-and-development-trend-forecast-of-china-biomass-power-generation-market-2014-2018
At present, biomass power generation plants have been included in national demonstration projects. China enjoys a very good foundation to develop biomass power generation due to abundant raw materials. Now the annual production capacity of standard coals is 932 million tons, and it is expected that it will increase to 1.171 billion tons by 2030. With the issue of Renewable Energy Law and Trial Measures for Allocation of Renewable Energy Power Generation Price and Cost, biomass power generation, especially straw power generation has received much attention.
Currently China National Petroleum Corporation (CNPC), Sinopec, China National Offshore Oil Corporation (CNOOC), China Oil and Food Import and Export Corporation (COFCO) and other large-scale state-owned enterprises have invested in building up plants in many provinces where are equipped with abundant biomass resources. National Bio Energy has nearly 40 biomass power generation projects which have put into operation and under construction, covering Shandong, Jiangsu, Heilongjiang, Inner Mongolia, Jiangxi and other provinces and autonomous regions with 1 million KW of installed gross capacity, and there are ten sets of 30MW units and seven sets of 12MW units putting into operation and seven sets of 12MW units are under construction.
To Download Full Report With TOC: http://www.marketresearchreports.biz/sample/sample/196005
Table of Content
1. Analysis of Biomass Energy Industry
1.1 Overview of Biomass Energy
1.1.1 Definition
1.1.2 Classification
1.1.3 Development and Utilization
1.2 Position and Function in National Economy
2. Operation Situation of International Biomass Power Generation
2.1 Development in 2013
2.2 Technical Status in Foreign Countries
2.3 Policy Analysis of Global Biomass Power Generation Industry
3. Operation Environment of China Biomass Power Generation Industry
3.1 China's Macro-economic Environment in 2013
3.2 Policy Environment in 2013
4. Operation Situation of China Biomass Power Generation Industry
4.1 Supply Analysis
4.2 Concentration Ratio
4.3 Depth Profiling of the Reasons for Slow Development
To Read Complte Reports With TOC: http://www.marketresearchreports.biz/analysis/196005
5. Demand Analysis of Biomass Power Generation
5.1 Demand Analysis and Forecast
5.1.1 Total Demand and Growth Rate
5.1.2 Change of Demand Structure
5.1.3 Demand Forecasting, 2014-2018
5.2 Market Analysis
5.2.1 Balance between Supply and Demand
6. Market Segment of Biomass Power Generation Industry
6.1 Marsh Gas Power Generation
6.1.1 Development Status
6.1.2 Technical Pattern
6.1.3 Existing Problems
6.1.4 Future Development Trend
6.2 Straw Power Generation
6.2.1 Main Types of Straw Power Generation
7. Technical Environment of Biomass Power Generation Industry
7.1 Production Technology
7.2 Future Development Trend
7.2.1 Terminal and Miniaturization
7.2.2 Comprehensive Utilization and Co-Generation
Latest Reports:
Green Energy Market - Global Industry Analysis, Market Size, Share, Growth, Trends And Forecast, 2013 - 2019
To Read Complete Report With TOC: http://www.marketresearchreports.biz/analysis/140481
There has been an increased emphasis on the need for green, renewable and sustainable energy sources globally. Rise in demand has been due to growing concern to protect the environment from pollutants such as greenhouse gases and issues related to energy security. Various factors driving the growth of green energy include environment concerns, government regulations and initiatives, coal plant retirements, need for natural gas hedging, rising demand for energy and fuel shortage/replacement.
The research study titled "Green Energy Market - Global Industry Analysis, Market Size, Share, Growth, Trends, and Forecast, 2013 – 2019" focuses on green and renewable energy resources. It offers market data and insights including the size and growth of different green energy types. The report provides a thorough analysis of the prevailing market state and emerging industry trends. It offers a comprehensive coverage of the underlying technological, environmental, economic and social issues affecting the green energy business. The study includes market data and forecasts based on in-depth analysis of the global green energy market. The report aims to identify various factors that drive and restrain growth of the green energy market. Prevalent competition in the market is identified through market share analysis of key players in the market. Furthermore, Porter's five forces analysis and value chain analysis that is included in the report aim to provide competitive intelligence across the supply chain.
To Download Full Report With TOC: http://www.marketresearchreports.biz/sample/sample/140481
The global market has been further segmented based on energy types, end-users and major geographies. Market forecast has been provided for each segment. Analysis of these segments provides tactical insights for each category and offers considerable business intelligence to stakeholders throughout the value chain. Green energy resource types included in this study are solar photovoltaic, hydropower, bio-fuels, wind energy and geothermal energy. The report also offers a thorough insight on the solar photovoltaic inverters market including the market size and forecast for micro-inverters, string inverters and central inverters. The report provides a comprehensive understanding of various end-use sectors including residential, commercial and industrial.
Concentrating Solar Power (CSP) Systems: Market Shares, Strategies, And Forecasts, Worldwide, 2014 To 2020
To Read Complete Report With TOC: http://www.marketresearchreports.biz/analysis/192939
Research announces that it has published a new study Concentrated Solar Power (CSP): Market Shares, Strategy, and Forecasts, Worldwide, 2014 to 2020. The 2014 study has 436 pages, 190 tables and figures. Worldwide markets are poised to achieve significant growth as the Concentrated Solar Power (CSP) integrates molten salt storage technologies and leverages the existing steam electrical power generating capacity.
The concentrated solar power market is set to explode despite environmental objections to the technology. The latest CSP launch, Ivanpah solar electric generating system is an engineering marvel that delivers on the full promise of solar energy. Ivanpah has 347,000 garage door-sized mirrors distributed across 173,500 heliostats. The heliostats track with the sun so that the mirrors can efficiently reflect its rays up to boilers that sit on top of the facility's three towers. The system uses solar field integration software and a solar receiver steam generator.
To Downlaod Full Report With TOC: http://www.marketresearchreports.biz/sample/sample/192939
Concentrating Solar Power (CSP) solar energy is the most promising and sustainable renewable energy; rolling out CSP systems offers both performance and competitive energy prices. CSP Solar provides a crucial energy solution that is utility scale and works 24 x 7 in combination with back-up stationary fuel cells.
Concentrating solar power is one of several preferred methods of solar electricity production. In most places it has achieved 'grid-parity' when considering ROI over 35 years. The mainstream cost of electricity from the grid can be complemented by solar systems. The solar industry in China is funded by the government. This unrelenting investment in energy efficiency has thrust the Chinese companies into the forefront of the industry.
Other countries rely on tax incentives and special tariffs to sustain further investment in solar electricity generation. This has enabled the industry to develop and provides very attractive investment opportunities, and is expected to do so for some time to come.
There is a move in the solar industry to achieve grid-parity. Once this is secure, the solar market can expand very rapidly achieving penetration growth calculations that exceed any growth rate per se. A step-change in system costs is being achieved, putting the industry on the cusp of a major growth spurt.
About Us
Marketresearchreports.biz is the most comprehensive collection of market research reports. Marketresearchreports.biz services are especially designed to save time and money of our clients. We are a one stop solution for all your research needs, our main offerings are syndicated research reports, custom research, subscription access and consulting services. We serve all sizes and types of companies spanning across various industries.
Contact US:
Office: United States
State Tower
90 State Street, Suite 700
Albany, NY 12207
Tel: +1-518-618-1030
E: sales(at)marketresearchreports(dot)biz
Web: http://www.marketresearchreports.biz/