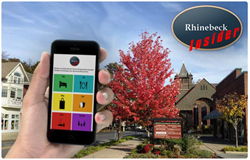 "We hope that the app will make people feel right at home and, ultimately, help encourage their return to Rhinebeck."- Michael Britt, President, Rhinebeck Insider
Rhinebeck, New York (PRWEB) May 01, 2014
Michael Britt, fifteen-year resident of Rhinebeck, New York, has announced the launch of an app he developed to make Rhinebeck a more tourist-friendly community. The mobile app is called "Rhinebeck Insider", and provides an insider's view on the best places to shop, dine, and relax.
"Over recent years, we have seen an extraordinary uptick in the number of tourists who are making Historic Rhinebeck a vacation destination," stated Britt. "And, while our village still exemplifies old-world, small-town America, I wanted to develop an app which could allow us to provide modern-day convenience and easy-to-access information to travelers. Thus, the Rhinebeck Insider was born, an app that gives users an easy way to get the 'inside scoop' on where to eat, where to relax, and where to shop."
The app works on all Apple and Android devices, reports Britt, whether a traveler is using a smartphone or a tablet. It can be purchased in iTunes or Google Play, and it uses the GPS in a user's device to provide directions to each location.
"We have dined at all of the restaurants, have shopped all of the stores, and, as parents, we also know what families should experience while they are staying in Rhinebeck," stated Britt. "It is really gratifying to use the app to share our 'insider knowledge' with outsiders; we hope that it will make people feel right at home and, ultimately, help encourage their return."
For more information, visit rhinebeckinsider.com.