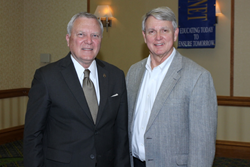 A great thank you to the Governor and his staff and to Commissioner Reese who on Governor Deals behalf has been incredibly supportive of the rural hospitals.
Savannah, GA (PRWEB) April 30, 2014
In what was a momentous occasion for Georgia's rural hospitals, Governor Nathan Deal spoke to the HomeTown Health Annual Spring Conference, Friday, April 25th at the Marriott in Savannah, Georgia. Entering to a standing ovation for his support of rural hospitals, Governor Deal spoke of his commitment to rural hospitals and the stress that they are under due to the rapidly changing health care environment. Fulfilling his commitment during the session, Governor Deal announced his three pronged approach to helping rural hospitals and health care by 1) establishing the Rural Hospital Stabilization Committee, 2) naming a rural hospital liaison within DCH, Charles Owens, and 3) emphasizing his support for the stand alone ED language being considered by the DCH Board this week. Speaking to nearly 200 HomeTown Health Rural hospital leaders and business partners affiliates, Governor Deal's remarks were warmly received as many of the attending hospitals are benefactors of his recent help for them in their financial crisis.
Governor Deal named the appointees to the Rural Hospital Stabilization Committee during his address, with HomeTown Health CEO Jimmy Lewis topping the list. "In March of this year, I proposed three revisions to the way we approach rural health care, with one being the Rural Hospital Stabilization Committee," Deal said. "I recognize the critical need for hospital infrastructure in rural Georgia and remain committed to ensuring citizens throughout the state have the ability to receive the care that they need. This committee will work to increase the flow of communication between hospitals and the state and improve our citizens' access to health care. I am proud to welcome this team and look forward to what we stand to accomplish." The charge of this committee will be to identify ways and means to stabilize rural hospitals and health care in this complex and rapidly changing health care environment.
"A great thank you to Governor Deal for this initiative and an exceptional committee and to DCH Commissioner Clyde Reese who, on Governor Deal's behalf, has been incredibly supportive of the rural hospitals," said HomeTown Health CEO Jimmy Lewis. "Rural hospitals have a prominent place on this committee as we see HomeTown Health, Ty Cobb Health Care, Liberty Regional, Community Health Systems, Tift Regional, and Fannin Regional and also the high Medicaid provider in Memorial Health Care of Savannah who so diligently supports the rural hospitals in its service area."