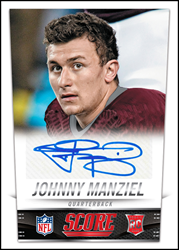 Irving, TX (PRWEB) April 28, 2014
Panini America (http://www.paniniamerica.net), the world's largest sports and entertainment collectibles company, announced today that it has signed NFL prospect, Heisman Trophy Winner and former Texas A&M quarterback Johnny Manziel to a multiyear agreement that will include his first NFL-licensed Rookie Cards including autographed trading cards. In addition, Johnny Manziel will join Panini as an exclusive athlete for autographed memorabilia through Panini Authentic, the autograph and memorabilia division of Panini America.
Manziel joins other exclusive Panini Authentic athletes including NBA superstars Kobe Bryant, Kevin Durant, Blake Griffin, Kyrie Irving and NFL stars Andrew Luck and EJ Manuel.
Manziel's first NFL Rookie Cards and autographed cards will arrive in the May release of Panini America's 2014 Score Football, where he will debut on NFL licensed product packaging as a Panini athlete. Panini will also have some other unique plans for collectors of Johnny's NFL autographed trading cards which will be available in all 2014-15 Panini NFL trading card products.
"Johnny Manziel is one of the most exciting players to enter the NFL Draft in quite some time and his arrival has been heavily anticipated for years by fans and collectors alike. He's at the head of a 2014 draft class that will drive trading card sales not just in 2014, but for many years afterward," said Panini America CEO Mark Warsop. "Making Johnny an exclusive member of the Panini America family has been a top priority for us since he declared for the NFL Draft. We're excited to add him to the Panini Authentic family as an exclusive autograph and memorabilia athlete. Fans and collectors can take comfort in knowing that going forward, all of his autograph and memorabilia signings will be witnessed by a Panini Authentic representative and will have serial Panini Authentic holograms on products and matching COAs to ensure authenticity for all collectors," added Warsop.
This autographed memorabilia – including signed helmets, jerseys and photographs – will be available exclusively on the Panini Authentic Website (http://www.paniniauthentic.com) beginning in late April.
During his freshman season at Texas A&M, Manziel accounted for more than 5,100 total yards (including 1,410 rushing) and 47 touchdowns (21 rushing), becoming the first freshman ever to win the Heisman Trophy. In 2013, Manziel passed for 4,114 yards and 37 touchdowns, and added 759 yards and nine more touchdowns on the ground. He finished his college career as Texas A&M's all-time leader in total touchdowns (94) and total yards (9,989).
"I'm honored that Panini America wanted me to be a part of their great team," said Manziel. "I remain focused and committed to doing everything I can – on the field and off -- to be the best quarterback I can be."
Panini America is the only company in the world that manufactures licensed trading cards and stickers for the NBA, NFL, NFL PLAYERS, NHL, NHLPA, MLBPA and FIFA World Cup. The company also has exclusive relationships with USA Baseball, USA Basketball and the U.S. Soccer Women's National Team. In addition Panini also has relationships with the Naismith Memorial Basketball Hall of Fame, The Pro Football Hall of Fame and the National Baseball Hall of Fame and owns exclusive entertainment licenses with Disney, One Direction and Michael Jackson, and more than 600 global licenses with other sports and entertainment properties.
ABOUT PANINI:
The Panini Group, established almost 50 years ago in Modena, Italy, has subsidiaries throughout Europe, Latin America and the United States. Panini is the world leader in officially licensed collectibles and is the most significant publisher of collectibles in the U.S., with official licenses for MLBPA, NBA, NFL, NHL, FIFA, USA Baseball, Disney, Nickelodeon, Warner Bros. and other key properties from many other licensors. Panini has distribution channels in more than 100 countries and employs a staff of over 800. For more information visit us at http://www.paniniamerica.net, http://www.paninigroup.com or http://www.paniniamerica.wordpress.com. You can also follow Panini America on social media platforms Facebook, Twitter and on YouTube.