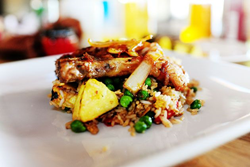 Cooking tasty, nourishing meals for my clients is my way of taking care of people.
Somerdale, N.J. (PRWEB) April 29, 2014
"Chef Kim" Osinski prides herself on creating food that comforts, whether it's a traditional meat-and-potatoes favorite, a delectable dessert, or a like-mom-used-to-make dish with a gluten-free slant. But her fare can be exceptionally creative too, whether she's cooking for a party of a hundred, a harried mom who just doesn't have the time to put a nutritious meal on the table for her family, or a couple celebrating an anniversary in.
It's that versatility, her ability to customize meals for every client's need, and, of course, the delicious taste of her creations that have earned Osinski and her Chef Kim's Kitchen the title of "Best Chef in South Jersey" from SoJo Happening, the online lifestyle magazine for South Jersey. She was one of several revered area chefs to be nominated.
"It's thrilling to be nominated for the top chef, let alone winning the honor," says Osinski, who lives and runs her business in Somerdale. "Cooking tasty, nourishing meals for my clients is my way of taking care of people. I put as much care into the preparation as I would for a beloved family member."
Prior to opening Chef Kim's Kitchen in 2009, Osinski honed her kitchen skills as a private chef for families and organizations up and down the East Coast. She earned her Culinary Arts Degree from the renowned Restaurant School at Walnut Hill College in Philadelphia.
Chef Kim's Kitchen provides catering services, in-home cooking and home delivery. Osinski takes particular joy in preparing personalized menus, and traveling domestically and internationally, soaking up the local culinary scene that will eventually make its way into her repertoire.
"I can get lost for hours in supermarkets or farm markets across the globe," she says. "Seeing goat cheese getting made, or how olive oil is pressed, is a fantastic day."
For more information on Chef Kim's Kitchen, visit http://www.chefkimskitchen.com or call 609-206-0341.