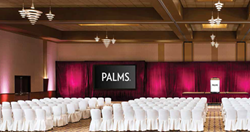 It's the entrepreneurial and investment event of the year. Everyone is under one roof at the same time.
Jupiter, FL (PRWEB) May 05, 2014
Private equity principals, angel investors and business owners will be among the attendees at The Capital, eXpertise and Opportunities Summit 2014 located at Palms Casino Resort in Las Vegas, NV. This three day networking and learning event is scheduled for June 12th-14th, with a bonus day on the 15th, and will be full of deal-making, education and discussion of all things related to equity financing.
"It's the entrepreneurial and investment event of the year. Everyone is under one roof at the same time – investors, entrepreneurs, experts, consultants and service providers. This is the premiere networking, educational and motivational event of the year. And with a venue of this caliber, this is going to be something extraordinary." says Jason Myers, CEO of CXO Collective International, LLC.
Over 300 participants are expected to attend this year's summit, presenting opportunities for all attendees to take their ambitions to the next level. On the agenda for discussion include items such as learning how to explode businesses, create jobs and adapt to the entrepreneurial lifestyle. Also, one of the 18 Powerhouse Speakers will be in attendance discussing how to take a business idea from a napkin to the New York Stock Exchange.
Crowd-funding will also be a major subject of discussion, including how to leverage it to increase working capital and optimize a company's capital structure. In addition to providing business owners with an infusion of cash, crowd-funding helps investors mitigate risk by being a part of a pool of equity providers, each of whom is accepting risk. New and innovative ways to obtain equity are constantly being introduced into the marketplace, and this summit will help participants stay abreast of the latest developments within the equity financing industry.
Attendees can expect an exciting series of seminars and group discussions, along with high-quality meals for breakfast, lunch and dinner. While learning about the importance of liquidity and the differences between debt and equity financing, participants can mingle and make new connections that can jumpstart businesses and create attractive rates of return. The event is setup to maximize the potential for positive outcomes for all of the professionals in attendance.
This is a great opportunity for people looking for deals to invest in, companies seeking investors, talent trying to take a company to the next stage and funds looking to acquire all or part of a company or add growth capital. Entrepreneurs will have the opportunity to pitch their ideas, in mock sessions and for real, at a Pitchapalooza event. Plus there will be breakout sessions, bonus day events and speed networking, allowing all participants to get the most of the summit.
The luxury of the newly renovated Palms Casino Resort only adds to the fun of this year's event and is one of the most highly regarded establishments in Las Vegas, NV. It features world class dining, entertainment and nightlife visitors rave about. Rooms at the Palms sellout fast, making early reservations a wise decision.
For additional information on The Capital, eXpertise and Opportunities Summit 2014 in Las Vegas, NV, go to http://cxocollective.com/html/cxo-summit-invite.html. There is no better venue for equity investors and entrepreneurs to network and discuss deals. Make arrangements to attend the summit while space is still available.
About the Company:
CXO Collective International, LLC., is an international private equity firm that creates new generations of first-class companies by providing equity investments, growth strategies and the executive talent to successfully execute action plans for select, early-stage and developed businesses with untapped potential. For more information on the CXO Collective, you can visit http://www.cxocollective.com.
ENDS