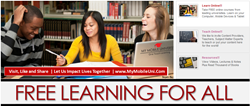 Self-education is, I firmly believe, the only kind of education there is. - Isaac Asimov
Washington. D.C. USA (PRWEB) April 30, 2014
MyMobileUniversity, (http://www.mymobileuni.com) global learning platform is designed to impact lives of millions through education and its various learning channels where knowledge and subject contents are presented globally from leading universities, colleges, vocational, technical schools, skills training and others from organizations, business schools and public and private institutions.
MyMobileUni.com, LTT Global's latest global CSR initiative, a lifelong learning platform for all ages, marks another milestone in the evolution of education globally, said Mr. Wemel Cumavoo, Founder and CEO, MyMobileUni. He added it is timely as a recentTelefónica's Global Millennial Survey of young adults, aged 18 – 30 (http://survey.telefonica.com) showed Millennia's believe that improving the access to, and quality of education to be the most important ways to make a difference in the world. In short Millennia's believe technology empowers and enables and ensures them of their future success.
We are pleased to appoint Dr Lawrence Wasserman, Honorary Advisor to MMU, and our Country Director for USA as he has been in the education, training and consultancy for more than 30 years and strong believer in lifelong learning and sharing of knowledge. Lawrence's commitment is to deliver a platform and access to education for all ages 24/7 globally through the latest learning technology.
Lawrence's commitment is to deliver a learning platform and the access to educational programs for all ages 24/7, globally utilizing the latest digital educational technology. Working experiences in Asia, Africa and Eastern Europe, Lawrence provides LTT Global with insights regarding the needs for learning in an age of the knowledge economy where "Knowledge is Power".
We invite learning providers; universities, companies and NGOs' to make available free content to power human capital development on our platform to reach out to both local and international market, said Dr Lawrence Wasserman, Director for USA.
MyMobileUni.com seeks world-wide supporters as learning partners, or content partners and media partners; public and private sector organizations, NGOS' or with outreach institutions.
If you are keen to participate and support our initiative "education for all", please contact us:
dr.lawrence(at)MyMobileUni(dot)com at Fortech International Ltd. Tel: + 13014241383 I Mobile: + 12404623471 Skype: galaxy139
Rani Wemel
Founder/ COO
LTT Global Communications SdnBhd
Tel: +60378777023 | Mobile: +60192070510
founders(at)MyMobileUni(dot)com