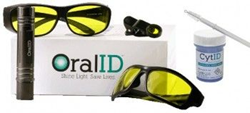 (PRWEB) May 01, 2014
Midtown Dentistry in Houston has begun an innovative new oral cancer screening program, using the Oral ID system. This is a device that uses fluorescence technology to help pick up any early signs of lesions or changes to the skin inside your mouth. The blue florescent light illuminates any cells that are abnormal or which show signs of changing, and helps identify the best location for a biopsy.It is quick and painless, and doesn't use any messy dyes or rinses.
Most oral cancer screening programs have poor compliance, as patients can find the process awkward and messy. Oral ID is different. It is so quick and comfortable that patients are more than willing to have this test.
Quite often, dentists will only examine the inside of the patient's mouth using normal light, but blue fluorescence light makes it far easier to identify any changes before they are visible to the naked eye. Early detection is critical for improving survival rates. Risk factors for oral cancer include tobacco usage, excess alcohol consumption, and exposure to the HPV virus.
Every year, 43,250 Americans will be diagnosed with oral or pharyngeal cancer, and one person will die from this disease every hour. Out of those newly diagnosed, just over half will still be alive in five years' time, a number that has not significantly increased in decades.
These figures are historically high due to the disease often being diagnosed late in the day, but dentists are trained to detect the first signs of oral cancer. Unless you regularly visit your dentist you are unlikely to be routinely screened for oral cancer. The early stages of oral cancer can be painless, and symptoms are easy to miss.
Midtown Dentistry iis renowned for using the very latest technology in dentistry, combined with caring and gentle dental care. Dr. Jonathan Penchas is one of the top dentists in Houston, and has more than twenty years of experience. There are four highly qualified dentists at Midtown Dentistry in Houston, with more than eighty years combined experience.