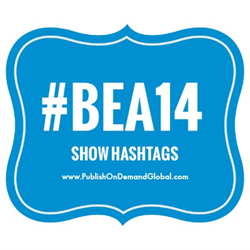 (PRWEB) April 29, 2014
After executing two successful book fair tweet-ups focused on recapping the events of international book fairs during a set time in the evening, BSBRA is introducing an updated version that will have users even more engaged. Join in all day long as BSBRA brings live coverage during #BEA14 straight to user's Twitter feeds.
Dates: Wednesday, May 28th through Saturday, May 31st
Time: All day long
Where: Twitter
Hashtag: #BEA14
Twitter Handles to Follow: @kaitneese @shaina_PODG @Robert_CEO
"Don't miss this unique opportunity to join publishing professionals, readers and authors from around the world as they bring you top insider secrets and exclusive access to some of the most interesting and educational information in the world of books," says BSBRA Director Kait Neese.
Search hashtag #BEA14 and/or follow @kaitneese, @shaina_PODG and @Robert_CEO from May 28-31 for a backstage pass to the 2014 Book Expo America. All participants should use the hashtags #BEA14 in their tweets.
Need a Twitter tutorial? Here's an article that will help you out: Click Here.
To read the full details about the #BEA14 tweetup: Click here.
About: Best Selling Books Rights Agency (BSRBA), our rights agency, is a leader of global agglomeration in both Digital & Text Copyrights Acquisition between the East and the West. Our rights agency focuses on matching buyers and sellers around the world for the purpose of copyright exchange. BSBRA is a subset of Publish On Demand Global, a US based publisher and rights agency. We are an amalgamation of companies and investors that wish to participate in the revolution(s) that are sweeping through the publishing industry. Through our partners and affiliates, we currently provide services to approximately 10,000 authors and publishers around the world.