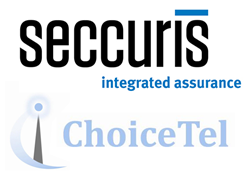 This alliance demonstrates our commitment to security and the well-being of the clients we serve.
Dallas, Texas (PRWEB) April 29, 2014
Security provider, Seccuris Inc., announced it has formed a strategic partnership with ChoiceTel, a leading telecommunications consulting and management company. ChoiceTel will provide Seccuris managed security services, including the OneStone™ Information Assurance Portal, to ChoiceTel clients in the United States through its ChoiceCyber division.
Developed by Seccuris, OneStone is a managed security service that provides reliable 24x7 threat monitoring, vulnerability management, business risk assessments, asset classification and tracking, and comprehensive reporting. Backed by a professionally-staffed Security Operations Center, OneStone helps clients make effective risk-based decisions at a time when threats are more prominent than ever. Plus, compared to the costs of organizations maintaining a 24x7 in-house security department, including staffing, training, maintenance, and infrastructure, OneStone is just a portion of the price.
"Our partnership with ChoiceTel is a perfect alignment of our capabilities," says Patrick Hayes, Managing Director for Seccuris. "Both ChoiceTel and Seccuris have built a strong reputation for quality service delivery and client care. This alliance demonstrates our commitment to security and the well-being of the clients we serve."
"With a new world of evolving global cybercrimes invading almost every level of our lives, strategic business partnerships are imperative to provide the most effective security solutions," said ChoiceTel President Diane Smith. "That's why the synergies represented between Seccuris and ChoiceCyber will reap innumerous advantages to the business community and our clients."
For more information on the security benefits of OneStone, visit seccuris.com/onestone.
ABOUT SECCURIS
Seccuris is the North American leader in premium Enterprise Security Architecture and Information Assurance Integration. Since 1999, the company has been providing clients with unparalleled business-driven solutions through security and risk management consulting and managed security services. Seccuris is the unique alternative because it assesses each client's entire enterprise, not just their technology, and then tailors the exact program they need to make effective risk-based decisions at every level. To learn more, visit seccuris.com.
ABOUT CHOICETEL
ChoiceTel is a leading technology solutions consultant. Since 1994, ChoiceTel has been dedicated to providing solutions to companies in order to make the most of today's technologies. ChoiceCyber, a division of ChoiceTel, specializes in the development and management of organizations' security and risk management initiatives. ChoiceTel recommends and supports solutions tailored to their clients' requirements, from negotiating contracts to assisting in securing businesses from cybercrimes. For more information, visit choicetel.