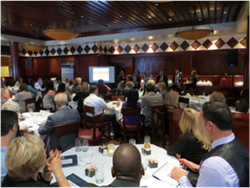 Rancho Cucamonga, CA (PRWEB) April 29, 2014
On Wednesday, April 24th, 2014, six mortgage & real estate industry authorities came together to present to 60 attendees on an expert panel during a sophisticated lunch served at Fleming's Prime Steakhouse & Wine Bar. On the menu for the afternoon: a thorough look at the current environment of the turbulent and ever changing mortgage & real estate market. The two industries work hand-in-hand which further calls for synergy between the two sets of professionals.
The panel of presenters featured a handful of well-versed experts including Harout Keuroghlian, Dave Leichtfuss, Laurie Irwin, Courtney Hoff, Kelly Marsh, and Tim Harrison. Harout Keuroghlian is CEO, Broker, and Founder of JohnHart Real Estate. Harout boasts $90 million in production during the year 2012, and $40 million during the year 2013. Dave Leichtfuss is President and Founder of Broadview Mortgage Corporation, and has been a wise mentor to his Broadview Family since 1988 as well as a strategic leader in the mortgage industry. Laurie Irwin is Broadview Mortgage's Corporate Underwriting Manager. Laurie uses her years of experience in the mortgage world to devise solutions for borrowers with elaborate situations. She is Broadview Mortgage's backbone. Courtney Hoff is Broadview Mortgage's Upland branch's Operations Manager. Courtney has worked as both a loan originator and a loan processor, providing her with a sincere understanding of each borrower's needs. Kelly Marsh is a Branch Manager at Broadview Mortgage as well as an NMLS licensed loan officer. Tim Harrison is a Broadview Mortgage Branch Manager at the Upland Branch, Vice President of the company, and is also an NMLS licensed loan officer. Tim and Kelly were both honored as two of the Top 300 originators in the Nation by the Scotsman Guide Publication as well as recognized as the Top Mortgage Originators in America for 2013.
The event was tastefully put together, commencing with a peek into the current state of the real estate and mortgage markets. Following the market overview the panel delved into important topics that have been a result of the stringent guidelines recently placed on the mortgage industry in response to the economic crisis. Topics included: qualified mortgages, the urgency for all borrowers to document assets, and jumbo mortgage financing. The panel also detailed methods of helping buyers become more likely to qualify through the deploying different strategies, as well as recent activity on the part of the Federal Reserve and what this means to loan officers and Realtors alike. Kelly Marsh reminded the audience, "You always have to be adaptive in this industry."
Tim Harrison commented on the event as very well received by the Realtors that attended as on of the best educational Lunch-N-Learns in the series they have done over the years. A few of the Realtor accolades and praises include:
"I really enjoyed the luncheon yesterday and I want to congratulate you on being an innovative leader in your business! Hearing the different speakers' opinions on the current status of our marketplace and then the loan processors/underwriter etc. comments on loan challenges and resolving issues prior to making offers was very timely. That is precisely why I always recommend you to my clients. Thanks again for all you do."
"Your lunch-n-learn was excellent—I think it was the best one I ever attended. I learned so much – this business is amazing – you never stop learning. And my steak was delicious. Thanks for everything. It is always a joy to work with you."
"I would like to thank you for a very enjoyable lunch today at Fleming's. We really enjoyed the panel question and answer session. It was informative, but also gave us perspective from some of the behind the scenes departments that we don't usually have the opportunity to speak to personally – i.e. underwriting, operations, and of course the owner of the company. We just wanted to let you know that we appreciate you putting this together and inviting us."
The presentation wrapped up with a big picture view of national interest rates and what these trends mean for both business and consumers. Overall the information provided further emphasized the fact that this is a sector of business where you can never stop learning or paying attention to what is going on from every angle. Short term gains or losses are never as important as long term, and when Realtors and mortgage loan officers come together to learn the items together, the two achieve the most efficient methodology in conducting their business.
Broadview Mortgage would like to thank Fleming's Steakhouse, and all of the Broadview associates involved for so beautifully putting together the event and catering to all of the panelists and listeners to pull together a delightful lunch and education session.
Since 1988, Broadview Mortgage has distinguished itself through honest business relationships with clients, loyalty to employees, and commitment to empowering and educating those communities. Broadview Mortgage is a mortgage banker and direct lender made up of loan officers with years of experience in the firm and sheer excellence in customer service. The firm works to explore several financial solutions from which it's clients may choose. Business is initiated and conducted on a word-of-mouth basis. Broadview Mortgage is a delegated underwriter for the Federal Housing Administration (FHA), the Veterans Administration (VA), and the Federal National Mortgage Association (FNMA). Broadview is also approved to participate in several state, county and city programs for First Time Home Buyers.