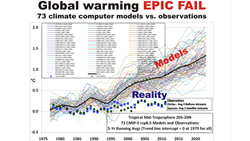 Calgary, Alberta, Canada (PRWEB) April 29, 2014
Friends of Science, the climate change science review organization, are lauding the recent statements in the press written by Harvard University's Robert N. Stavins, as he publicly asks "Is the IPCC Government Approval Process Broken?" as reported in the Huffington Post April 27, 2014. Stavins wrote: "... there may be an inescapable conflict between scientific integrity and political credibility."
"What level of credibility on climate change and global warming should we ascribe to a report where the summary has been rewritten by self-interested government representatives?" ask Ken Gregory, research director for Friends of Science, a climate science review organization.
Stavins is the Albert Pratt Professor of Business & Government, John F. Kennedy School of Government, Harvard University, Director of the Harvard Environmental Economics Program and Director of the Harvard Project on Climate Agreement.
Robert Stavins' role with the IPCC is that of Co-Coordinating Lead Author (CLA) of Chapter 13, "International Cooperation: Agreements and Instruments." Stavins points out that he and others spent grueling and time-consuming effort to summarize the 2,000 pages in 15 chapters of science, written by the Working Group III (Mitigation) of the Fifth Assessment Report (AR5) IPCC, into an agreed upon, readable 33 page Summary for Policy Makers.
"The Summary for Policy Makers (SPM) is probably the most significant document of the mammoth IPCC report," says Gregory, "as governments refer to this readable overview to direct their climate change policy decisions."
According to his own account in the Huffington Post, Stavins was dismayed that government representatives moved in to change virtually everything in the summary to suit their national interests.
Stavins describes the process as such: ".... the only way the assembled government representatives would approve text for SPM.5.2 was essentially to remove all "controversial" text (that is, text that was uncomfortable for any one individual government), which meant deleting almost 75% of the text….under IPCC rules, the dissent of one country is sufficient to grind the entire approval process to a halt unless and until that country can be appeased."
Atmospheric scientist Judith Curry responded to Stavins intial posting on her blog, musing about the IPCC report "...True to its classic wicked messiness, there is no unambiguous way to separate natural from anthropogenic climate change, or to separate climate change impacts from other confounding factors, or to separate the solutions from the broader issues of population increase, underdevelopment, mismanagement, and corrupt governments."
Curry recently testified to the US Senate Committee on the Environment and Public Works on Jan. 16, 2014 on President Obama's "Climate Action Plan," with words that contradicted the administration's claims of an impending, human-caused climate crisis. She stated that "Evidence reported by the IPCC AR5 weakens the case for human factors dominating climate change in the 20th and early 21st centuries." She also stated that carbon dioxide does not appear to be the 'knob' that controls climate.
The Dutch government is demanding an overhaul of the IPCC to include natural climate change, not just human-induced climate change, among other issues.
Likewise, in 2011, the Global Warming Policy Foundation published a report by author and economist Ross McKitrick entitled "What's Wrong with the IPCC?"
Ross McKitrick will be guest speaker at Friends of Science 11th Annual Luncheon May 13, 2014. The topic will be "The Pause in Global Warming: Climate Policy Implications." Ticket information on-line: friendsofscience.org
About
Friends of Science have spent a decade reviewing a broad spectrum of literature on climate change and have concluded the sun is the main driver of climate change, not carbon dioxide (CO2). The core group of the Friends of Science is made up of retired earth and atmospheric scientists.
Contact:
Friends of Science Society
P.O.Box 23167, Mission P.O.
Calgary, Alberta
Canada T2S 3B1
Toll-free Telephone: 1-888-789-9597
Web: friendsofscience.org
E-mail: contact(at)friendsofscience.org