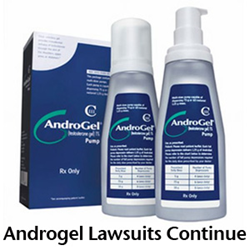 If your believe you have suffered cardiovascular problems due to testosterone therapy drugs such as Androgel and Testim, Call Wright & Schulte LLC today for a Free Legal Evaluation at 1-800-399-0795 or by visiting www.yourlegalhelp.com
Columbus, OH (PRWEB) April 29, 2014
A new AndroGel lawsuit has been filed against AbbVie Inc. and Abbott Laboratories on behalf of a Louisiana man who alleged he suffered a stroke due to the low testosterone therapy medication. The attorneys at Wright & Schulte LLC note that this Androgel lawsuit comes as plaintiffs in other lawsuits are waiting to hear on the consolidation of all testosterone lawsuits into the Eastern District of Louisiana. Since the FDA issued a statement in January that they are investigating the safety of low testosterone therapy drugs and their potential risk to cause strokes, heart attacks and other cardiac events, there have been at least 50 testosterone lawsuits filed and awaiting consolidation. This AndroGel complaint, was filed in the U.S. District Court, Eastern District of Louisiana on April 24, 2014. (Case No. 2:14-cv-00935); (In Re: Testosterone Products Liability Litigation, No. 42, JPML)
[fda.gov/Drugs/DrugSafety/ucm383904.htm, January 31, 2014]
The firm is currently reviewing AndroGel and other testosterone lawsuits in wake of the FDA's announcement and is offering free legal consultation to those who believe they have suffered cardiac events due to low testosterone treatment drugs by contacting an attorney at http://www.yourlegalhelp.com or calling 1-800-399-0795.
According to court docuemnts, the Louisiana man began using the testosterone drug AndroGel in September 2011 when he was 66 years old for symptoms he attributed to low testosterone after viewing AbbVie Inc.'s advertisement for the prescription medication. The complaint further states that he continued using the medication until January 2013, and in February 2013, he had a stroke and must undergo regular testing for the rest of his life, adhere to a restrictive diet and take medication. As a result of the stroke, they testosterone lawsuit contends that he now suffers from reduced memory, speech, and vision in both eyes and is at risk for having more strokes and death allegedly due to his use of AndroGel.
Wright & Schulte LLC notes this testosterone lawsuit purports that had AbbVie Inc., the manufacturers of the low testosterone medication, properly disclosed the risks of taking AndroGel, the plaintiff would have avoided the risk of having a stroke by either not taking the prescribed medication at all or severely limiting the dosage and length of use and/or by closely monitoring the degree to which the drugs were adversely affecting his health. The AndroGel lawsuit also purports that the defendants' aggressive marketing and "disease awareness" campaign to alert men that they might be suffering from low testosterone, led to an increase in the medication's sales to $1.37 billion a year. The lawsuit further contended that the marketing campaign led consumers to believe that the testosterone replacement therapy was safe and effective, but those who used the medication allegedly suffered life-threatening health problems, including cardiac events, thrombolytic events and strokes.
According to court records, this latest lawsuit is just one of over 50 Testosterone lawsuits filed in federal courts across the country by men who allegedly suffered heart attacks, strokes and other cardiovascular problems as a result of using AndroGel. Due to the mounting number of testosterone treatment lawsuits, plaintiffs named in a dozen of these complaints filed a petition on March 28, 2014, with the U.S. Judicial Panel On Multidistrict Litigation (JPML) to establish a multidistrict litigation in the U.S. District Court, Eastern District of Louisiana, for all federally filed testosterone treatment lawsuits. (In Re: AndroGel Product Liability Litigation, MDL Docket No. 36)
Court records indicate that filings of AndroGel lawsuits and other testosterone treatment drug complaints increased after the U.S. Food & Drug Administration announced in January 2014, that it was investigating the safety of using low testosterone therapies after two studies showed that prescribed medications like AndroGel, Testim, and Androderm might increase the risk of heart attacks, strokes and death in older men and in men with pre-existing heart problems. Days after the announcement by the FDA four testosterone lawsuits were filed in federal court in Illinois against the manufactuers of AndroGel (Aurecchia v. AbbVie Inc., 14-cv-00772; Benn v. AbbVie, 14-cv-00774; Gallagher v. AbbVie Inc., 14-cv-00776; Marino v. AbbVie Inc., 14-cv-00777 and Myers v. AbbVie Inc., 14- cv-00780; U.S. District Court, Northern District of Illinois)
[fda.gov/Drugs/DrugSafety/ucm383904.htm, January 31, 2014]
Wright & Schulte LLC is offering free, no-obligation legal evaluations to individuals who believe they have suffered serious and life-threatening cardiovascular events that may be associated with their use of AndroGel. For more information or to arrange for a free legal consultation with an attorney at Wright & Schulte LLC, please visit yourlegalhelp.com.
About Wright & Schulte LLC And Filing An Androgel Lawsuit
Wright & Schulte LLC, an experienced personal injury firm, is dedicated to the belief that America's legal system should work for the people. Every day, the attorneys of Wright & Schulte LLC stand up for the rights of people who have been injured or wronged and fight tirelessly to ensure that even the world's most powerful corporations take responsibility for their actions. If you're looking for a law firm that will guarantee the aggressive and personal representation you deserve, please do not hesitate to contact Wright & Schulte LLC today. Free AndroGel lawsuit case evaluations are available through yourlegalhelp.com or by calling 1-800-399-0795.