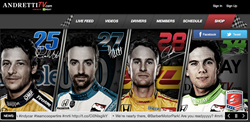 The world's fastest growing social racing site, AndrettiTV, powered by Cinsay, sees early success with fan-base by adding exclusive video, fan-sourced photos and social interaction
Austin, TX (PRWEB) April 24, 2014
AndrettiTV.com, powered by Cinsay, is rapidly growing as the IndyCar race season continues. Launched in January, the world's fastest growing social racing site is adding new exclusive video, event pictures and race fans each week. Equally successful is the exclusive branded merchandise site, ShopAndretti.com.
The racing portal provides fans unique video content and connectivity to drivers that's not available anywhere else in the racing world. Membership profiles are free to create and allow members social interaction between other race fans around the world, to socially connect with and even 'friend' the Andretti Autosport drivers and crew. It also gives corporate sponsors unique branding beyond the track and race events as well as online visibility in between scheduled race events.
Since the initial Firestone Grand Prix, the newly evolved site now features live streaming video from the Andretti Autosport headquarters as well as archived footage from driver interviews; highlight reels, events, contests and race schedules. The site also includes new social features enabling race fans and the media to join the exclusive interaction by creating a profile page and following other fans, drivers and crew. "AndrettiTV is a fan's dream come true!" shared one new member. "Where else can people who share their passion for racing, meet online and talk about Mario's and Michael's famous races all the way up to Marco and the other Andretti IndyCar drivers? For those of us who cannot attend a race in person, it's a magical moment online!"
Contests and Engagement Created for Fans:
Michael Andretti of Andretti Autosport shared, "We're excited about the growth and potential for AndrettiTV. It is proving to be a great online multimedia source for all things IndyCar and Andretti. There are fans joining from all over the world and starting conversations with each other, sharing historic race stories about Mario and pictures about our team and crew."
Before the drivers and crew head to the next race, viewers can choose from several different cameras providing live video streams from the Andretti Autosport facility in Indianapolis. Some of the feeds have audio and include behind the scenes video of shop operations, IndyCar prep, the transport trucks, paint prep and each of the driver's car bays and links to ShopAndretti.com.
AndrettiTV is also featuring ongoing contests for fans. This week, five winners will be chosen randomly which have signed up for a free profile at AndrettiTV.
"We are choosing five random AndrettiTV members (users who have signed up and have an active profile) to be part of an exclusive 'meet and greet' with Kurt Busch on Monday, April 28 at Indianapolis Motor Speedway. Kurt's Indianapolis 500 car livery will be unveiled, and we want you to be there." Said Ryann Rigsby, Director of Corporate Communications for Andretti Autosport.
"The excitement and fan engagement for AndrettiTV has been overwhelming," said Christian Briggs, founder and CEO of Cinsay. "We're just two races into the IndyCar season and the site is adding new video, pictures and fans every day. People embrace this kind of concept because it brings a whole new level of interactivity, entertainment and commerce like never before seen in auto sports. This is something fans have wanted and needed for a long time and Andretti Autosport and Cinsay have finally made it happen."
Andretti Autosport will be hosting several events at the track where fans can attend in person and online via AndrettiTV. Ticketed attendees will be able to cue in line for first chance driver 'meet-and-greets', purchase Andretti-branded merchandise as well personal autograph and photo sessions with the drivers and crews. Scheduled this coming week are events with Marco Andretti, James Hinchcliffe, Carlos Muñoz, Zach Veach, Matthew Brabham, Garett Grist, and Shelby Blackstock.
Cinsay, the title sponsor for the No. 34 Indy car driven by Carlos Muñoz, came in third place at the Long Beach Grand Prix and the anticipation is building for Carlos to make another run for a winning finish at this weekend's Honda Grand Prix in Alabama. Tune to NBC Sports Network this Sunday, April 27th at 2:30 PM EST the race, and catch qualifying live Sunday morning at 1:00 AM, and follow along with other fans on AndrettiTV.com for exclusive video content, interviews and fan-shared content.
Andretti Autosport Driver and Crew Schedule at the Honda Grand Prix Alabama:
Friday, April 25
Marco Andretti & Ryan Hunter-Reay
ShopAndretti.com Merch Signing
INDYCAR Fan Village
4:30 p.m. – 5:00 p.m.
Saturday, April 26
Marco Andretti, James Hinchcliffe, Ryan Hunter-Reay, Carlos Muñoz
Verizon IndyCar Autograph Session
INDYCAR Fan Village
12:15 p.m. – 1:15 p.m.
Sunday, April 27
Zach Veach & Matthew Brabham
Indy Lights Autograph Session
INDYCAR Fan Village
10:00 a.m. – 10:30 a.m.
Shelby Blackstock & Garett Grist
Pro Mazda Autograph Session
INDYCAR Fan Village
10:30 a.m. – 11:00 a.m.