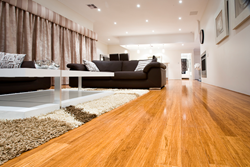 (PRWEB) May 05, 2014
Today, BambooIndustry.com, a leading China bamboo flooring company, held a seminar on how to choose high quality bamboo floors, and introduced its Bamboo parquet, a typical wide plank bamboo flooring.
Based on the CEO of the company, bamboo parquet is the improved version of solid bamboo parquet. It is 3 layers of crosswise structure: its top layer and bottom layer are in a same direction, while the middle layer is in a different direction.
There are more than 80 potential customers at the seminar. BambooIndustry.com has introduced some popular ways to distinguish the bamboo flooring quality by explaining some various defects. The business hopes to help the consumers worldwide to find a reliable bamboo flooring supplier, so that they can get high quality bamboo floors at affordable prices.
"We are happy to introduce our new products to our customers. At the seminar, customers communicated with our bamboo experts, and get the answers to some specific problems. Our professionals introduce our bamboo flooring in a simple way, so that people can get a clear understanding of our bamboo floors."
BambooIndustry.com is a China-based bamboo flooring company offering the industry's most comprehensive bamboo flooring products at affordable prices. The company has become one of the leading bamboo flooring manufacturers and suppliers for the global bamboo flooring distributors.
About BambooIndustry.com
BambooIndustry.com is a website that belongs to BothBest Bamboo Flooring Co. Ltd., a professional supplier and exporter of bamboo products. Certified by both ISO9001:2008 and ISO14001:2004, the company has 8 years of experience in the manufacturing and wholesale of bamboo flooring products. It strives to bring its customers the latest styles and innovations of bamboo flooring, bamboo paneling, bamboo plywoods, bamboo furniture, and other bamboo products.
More information about the business and its bamboo flooring products can be found at http://www.bambooindustry.com/products/bamboo-flooring/bamboo-parquet.html.