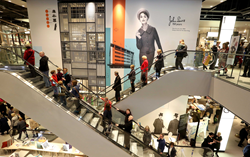 we're now using IES-SCAN, a new powerful IES tool, to import the actual building data back into the model, so we can continuously analyse the occupied building to quickly identify any performance gaps to deliver a soft landing
Glasgow (PRWEB UK) 29 April 2014
John Lewis has recently opened what it claims to be its most sustainable store ever, in Vangarde shopping Park, York. At the heart of the stores sustainability features lie sustainable building experts, Lateral Technologies and building performance analysis experts, IES. Using IES performance modelling technology, Lateral Technologies were able to implement many energy saving measures which will achieve a 35-40% carbon reduction than similar stores in the John Lewis group. The store also achieved a BREEAM Outstanding rating.
Speaking about John Lewis' sustainability targets, Paul Paterson, sustainability design manager at Lateral Technologies explains, "Although the government has ambitious carbon reduction targets in place, John Lewis wants to go beyond this to reduce absolute carbon emissions by 15% across all its stores by 2020."
He adds, "Because the retailer is growing and adding new shops, achieving this target means the carbon emissions for new shops must be 30% less than similar existing shops. So when we were asked to help develop John Lewis York, a new £15m department store in Vangarde Shopping Park, we knew incorporating outstanding sustainability features from the outset would be a key priority."
Energy saving measures taken include a 450kw chiller which requires 25% less energy than those in other stores, Photo Voltaics (PV) roof panels to generate 4% of the store's electrical energy from a renewable source, building air permeability of less than 3 m3/(h.m2) and full LED lighting, requiring 40% less energy.
To ensure the store performs as expected, Lateral Technologies will continue to monitor it using IES' energy management tool, IES-SCAN.
"Far from considering our job done, we're now using IES-SCAN, a new powerful IES tool, to import the actual building data back into the model, so we can continuously analyse the occupied building to quickly identify any performance gaps to deliver a soft landing," says Paul Paterson, Lateral Technologies. "The level of detail provided by the model is incredible, enabling us to analyse how everything from the HVAC to the escalators to the catering equipment is performing."
To read the full case study visit http://www.iesve.com/software/showcase/3880/Lateral+Technologies%3A+John+Lewis .