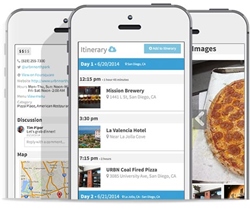 Travefy is a great example of the entrepreneurial spirit that's alive and well not only in Omaha but across the country.
Omaha, NB (PRWEB) April 30, 2014
Travefy, a free online and mobile group travel planner won the "Get Started Omaha" pitch competition hosted by Cox Business and Inc. Magazine. The event featured five finalists that were selected from over 30 businesses that applied to pitch. The event took place live at the Holland Performing Arts Center last Thursday night, April 24.
Travefy is a web-based travel planner that simplifies group travel. Through Travefy users can collaborate on trip itineraries, book travel deals, and collect shared expenses.
"It was an honor to participate in the event and win among such a talented and inspiring set of companies," said David Chait, founder and chief executive officer of Travefy. "We greatly appreciate the expert panel advice and the support from Cox Business and Inc. Magazine."
Chait presented a two and a half minute verbal pitch and answered questions from a panel of expert judges, ultimately taking first place and $8,500 in cash and services from Cox. Expert judges for the competition included Eric Paley, managing partner of venture capitalism firm Founder Collective, Cisco's social media leader and comedy writer and producer Tim Washer, Hudl co-founder and Chief Product Officer John Wirtz, and Inc. writer Christine Lagorio-Chafkin.
"Congratulations to Travefy from Cox Business, said Steve Rowley, senior vice president of Cox Business. "Travefy is a great example of the entrepreneurial spirit that's alive and well not only in Omaha but across the country. Cox Business is committed to helping start-ups and small businesses thrive as they fuel the economic engine in America."
Travefy won based on the company's innovation, ease of implementation and benefit to the community. Get Started Omaha was the fifth event in the "Get Started" series by Cox Business and Inc. magazine.
ABOUT TRAVEFY
Travefy (https://travefy.com) is the easiest online group travel planner. Through Travefy, groups can collaborate on trip details, book travel deals, and collect shared expenses.
Travefy serves over 8 million activities, restaurants, accommodations, and deals across the globe to discuss, book, and build a rich shared itinerary. Through Travefy's patent pending expense management tool groups can track all shared expenses, settle the bill, and collect payments through Travefy. Never get stuck with the bill again! Travefy is free to consumers at Travefy.com and fully mobile optimized. A branded Pro version is also for travel agents and vacation providers.
Travefy is based in Lincoln, Nebraska and launched its full beta in late 2013. Travefy has been featured in The New York Times, Fast Company, Network World, Entrepreneur, and Skift among other publications and has won numerous awards.
For more information & press assets please see: https://travefy.com/press.
ABOUT COX BUSINESS & COX COMMUNICATIONS
Cox Business provides voice, data and video services for more than 300,000 small and regional businesses, including healthcare providers, K-12 and higher education, financial institutions and federal, state and local government organizations. The organization also serves most of the top tier wireless and wireline telecommunications carriers in the U.S. through its wholesale division. According to Vertical Systems Group, Cox Business is one of the largest providers of business Ethernet services in the U.S. based on customer ports and has been consistently recognized for its leadership among small/midsize business data service providers. For more information about Cox Business call 1-800-396-1609.
Cox Communications is a broadband communications and entertainment company, providing advanced digital video, Internet and telephone services over its own nationwide IP network. The third-largest U.S. cable TV company, Cox serves approximately 6 million residences and businesses. Cox Business is a facilities-based provider of voice, video and data solutions for commercial customers, and Cox Media is a full-service provider of national and local cable spot and new media advertising.
Cox is known for its pioneering efforts in cable telephone and commercial services, industry-leading customer care and its outstanding workplaces. For seven years, Cox has been recognized as the top operator for women by Women in Cable Telecommunications; for seven years, Cox has ranked among DiversityInc's Top 50 Companies for Diversity. More information about Cox Communications, a wholly owned subsidiary of Cox Enterprises, is available at http://www.cox.com and http://www.coxmedia.com.
ABOUT INC.
Inc., the only major business magazine dedicated exclusively to owners and managers of growing private companies, delivers real solutions for today's innovative company builders. It provides hands-on resources and market-tested strategies for managing people, finances, sales, marketing, and technology. In addition, Inc. looks beyond work to address the entrepreneurial lifestyle. Inc. inspires and informs, with cutting-edge coverage that reflects its readers' energy, brashness, and imagination.