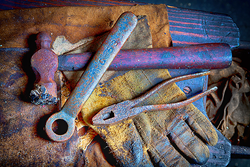 "...The industrial foundation of my youth, even with much of that foundation now in decay, still resonates with me and attracts my photographic eye," explains Martin Heavner.
Scottsdale, AZ (PRWEB) April 30, 2014
HarmonyWishes Art E-Cards is pleased to showcase guest artist Martin Heavner whose recent work includes a glimpse of our industrial past as well as lush landscapes. "When we first reviewed the scope of his work, the subjects seemed disparate," says Meg Matlach, HarmonyWishes' owner. "But when we explored his perspective with him, the commonality became apparent".
"My work tends to have two main themes," explains Martin, "nature and what I call 'machine-scapes', which often include architectural elements. Overall, I'm attracted to light, tones, textures and lines more than any specific subject matter."
HarmonyWishes Art Director, Michael Matlach observes, "At first glance, Martin's images are beautiful but also a bit mysterious. Upon hearing more about the background of the industrial images, I learned that my reaction that they were a romantic view of the past was wrong and that they had an even more compelling history as explained by Martin."
Martin relates, "I grew up in a small town – Cumberland, Maryland – that experienced its most prosperous period when the railroad and glass, tire, and textile factories were the dominant local employers. My father, my wife's father, and just about all my relatives worked in factories or for the railroad most of their lives. Now those factories have all closed.... So the industrial foundation of my youth, even with much of that foundation now in decay, still resonates with me and attracts my photographic eye. My image, 'Station 126 – Lonaconing Maryland' was taken in an abandoned silk mill near Cumberland. The factory literally locked its doors one night in 1957 and left everything…the machines, supplies, employee time cards, calendars on the wall… frozen in time. For me, it's a haunting place -- not romantic, but visceral -- because I understand how hard the employees worked and what a devastating blow they felt when the factory closed."
For more about Martin Heavner's work, his portfolio can be found here. To interact with his images as an e-card, his images can be found at HarmonyWishes.
About HarmonyWishes,inc
Founded in 2007, HarmonyWishes Art E-Cards mission is to provide an alternative way of communicating through a visually and intellectually stimulating choice of unique images that have a global perspective and foster spiritual diversity. In a world which is consistently bombarded by negative images and actions, HarmonyWishes provides a much needed visual sanctuary for personal reflection and communication using uplifting images, words, and music. Their galleries contain over 500 images, 250 quotes, and original music scores. More information can be found at HarmonyWishes,inc.
HarmonyWishes also has a blog which focuses on global organizations, art, music, sustainability and a variety of cultural topics.