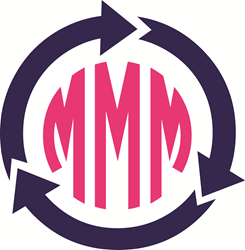 "Moms today tend to buy monogrammed items for their kids from day one. Match My Monogram provides a unique place for moms to resale personalized wardrobes," states Katy Chambers, owner of Match My Monogram.
Shreveport, LA (PRWEB) April 30, 2014
Match My Monogram the first and only online marketplace for consumers to consign used monogrammed items and businesses to upcycle unused personalized samples and mishaps is excited to announce the new press page on the website. Bloggers of all sorts including environmental, mommy and fashionistas have taken a liking to this brilliant concept as is evident on the new press page.
No mother can resist buying their little one a cute outfit with their name or monogram on it. Whether using for a picture-taking session, joining the family for a formal feast or going to a classmate's birthday party, little ones all over the world tend to wear their best outfits. Unfortunately, our children grow up quickly so it is impossible to get two seasons out of a darling outfit. Match My Monogram gives mothers all over a place to get a little back by buying and selling previously used monogrammed items at unbeatable prices.
Businesses also profit by adding their samples and mishaps to Match My Monogram. Instead of trying to sell unused items themselves, monogram shop owners can now use Match My Monogram as the marketplace for their samples and mishaps.
Match My Monogram believes offering an online outlet for selling used monogrammed pieces and unused new items to parents all over will encourage them to continue purchasing gorgeous clothes for their kids. Now that moms can get a nice return on their investment by getting something back for their gently used monogrammed pieces, they will be even more likely to splurge for a monogrammed dress. In addition to buying new outfits, moms can also resale and purchase these beautiful new and used monogrammed pieces directly on Match My Monogram's website. Match My Monogram gives moms a place to sell their children's once-prized items. "Moms today tend to buy monogrammed items for their kids from day one. Match My Monogram provides a unique place for moms to resale their children's entire personalized wardrobe," states Katy Chambers, owner of Match My Monogram.
A monogram tells a story. It conveys who we are. In an age where everyone brands themselves in the virtual world as well as in reality personalization has become king. Examples include the child wearing a high-end monogrammed outfit to school or the businessman carrying his custom briefcase through airports around the world. Match My Monogram grants the power to both the consumer and consignor as well as providing a tremendous outlet for wholesalers and retailers alike.
Currently the space is experiencing a growth spurt. Match My Monogram launched due to this fact. Mothers all over the world love to personalize their children's best outfits. The days of marking your children's backpack or lunchbox with a sharpie are over. Big retailers and boutiques alike have joined the fray and are offering personalization on many items. People like things with their names on them. As shoppers continue to spend on customized items, the industry for gently used personalized goods will continue to grow. Owner Katy Chambers states, "The high-end monogrammed outfit now won't be stuck in the back of a drawer or thrown in to a closet; at Match My Monogram we upcycle these treasures."
Match My Monogram connects consumers and sellers with the same name. Buyers can conveniently search by letter, name or initials. A match is a terrible thing to waste.
About the Company:
Match My Monogram, founded by Katy Chambers, launched in July, 2013. Being a mother of two boys with plenty of outgrown monogrammed clothes and having wondered what to do with her personalized maiden name items, the question of what to do with the unusable pieces began to evolve in to an opportunity. Since the launch of the website, the product line has rapidly evolved from mostly children's clothes to a marketplace with a variety of personalized items. Match My Monogram now works with many businesses providing them an outlet for samples and mishaps.